Papanna named director of new division
---
---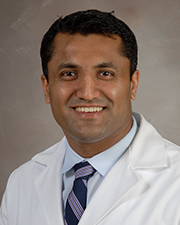 Ramesha Papanna, MD, MPH, professor of obstetrics, gynecology, and reproductive sciences, has been named the inaugural director of the Division of Fetal Intervention, effective Jan. 1, 2023.
"Ramesha has truly earned the recognition of an international clinical and research expert in fetal intervention," said Sean Blackwell, MD, chair of the Department of Obstetrics, Gynecology, and Reproductive Sciences. "He and his team developed the fetal research program from the ground up, and I look forward to his continued successes for our patients and the specialty."
The Division of Fetal Intervention was established in 2022, with the mission to provide comprehensive, innovative, and patient-centered care to families affected with fetal conditions through evidence-based practice, collaboration, education, and research.
"Our department is one of the very few in the United States with an academic fetal division that is robust enough to be its own division and separate from Maternal Fetal Medicine," Blackwell said.
Board-certified in maternal-fetal medicine and obstetrics and gynecology, Papanna is a fellowship-trained fetal interventionist, a professor in the Department of Obstetrics, Gynecology, & Reproductive Sciences, and the program director of the Fetal Intervention Fellowship. Additionally, he is the co-director of The Fetal Center, which is a national referral center and an international leader in fetal diagnosis, fetal intervention, and comprehensive fetal care for pregnancies diagnosed with congenital anomalies or genetic abnormalities. The team offers patients a complete range of prenatal testing and fetal interventions with a coordinated program for mother and child before, during, and after birth.
Papanna earned his medical degree from Kasturba Medical College in India and a master's in public health from UTHealth Houston School of Public Health. He completed his residency at Rochester General Hospital with a research focus on the diagnosis of preeclampsia. He completed a fetal intervention fellowship at Baylor College of Medicine in Houston, followed by a maternal-fetal medicine fellowship at Yale University, focusing on fetal membrane biology for the prevention of preterm, premature rupture of the membranes after fetal surgery. He joined the McGovern Medical School faculty in 2013 as an assistant professor.
His clinical interests include fetal intervention for conditions including twin-twin transfusion syndrome, in-utero spina bifida repair, and other fetoscopic-based and needle-guided in-utero procedures. He pioneered the novel method of fetoscopic spina bifida repair using cryopreserved human umbilical cord as a meningeal patch to improve spinal cord function in children. He is also recognized for his research and presentations about improving outcomes following fetal intervention and investigating methods for the prevention of preterm delivery.
Anthony Johnson, DO, professor and co-director of The Fetal Center along with KuoJen Tsao, MD, joined McGovern Medical School faculty in 2011 and played a pivotal role in expanding The Fetal Center program and establishing the Division of Fetal Intervention. "I am indebted to his leadership, expertise, and friendship and very grateful for all that he has done for the department," Blackwell said, adding that Johnson will continue his academic and clinical activities in the Division of Fetal Intervention and The Fetal Center.
Plans to launch an institute focused on fetal research are currently underway.
---