Sharrief needs your help for Voter's Choice Hero Contest
---
---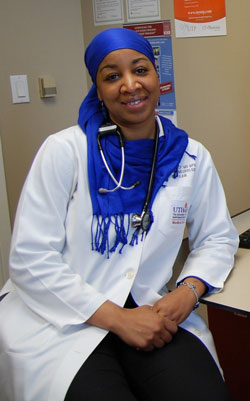 The American Stroke Association has announced Anjail Sharrief, MD, associate professor in the Department of Neurology, is a finalist for the 2023 Voter's Choice Hero Award.
The American Stroke Association's Voter's Choice Hero Award honors an individual or group making an outstanding effort to educate, inspire, and bring awareness about stroke locally or nationally. Judges selected candidates from the nominations in five categories, and public voting determines the winner.
Voting will begin at 8 a.m. Wednesday, March 8, and will run through 8 p.m. Wednesday, March 22. Voters will be able to cast ballots once every 24 hours throughout the two-week window, and a valid email address is required to vote. Winners of the Voter's Choice Hero Contest will be announced April 24.
Sharrief is the director of Stroke Prevention at the UTHealth Houston Institute of Stroke and Cerebrovascular Disease as well as the director of the Stroke Transitions Education and Prevention Program, which she founded in 2014. She also serves as the vice chair for Diversity, Equity, and Inclusion in the Department of Neurology.
Sharrief's research focuses on addressing health disparities and health outcomes in stroke survivors. She also is passionate about mentoring undergraduates, medical students, and residents to pursue academic careers in the neurosciences.
To begin voting for the Voter's Choice Hero award on March 8, click here.
---