Neher named director of accreditation
---
---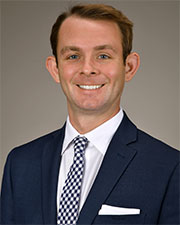 Following a national search, Samuel E. Neher, MS, EdD, was named the inaugural director of Accreditation and Continuous Quality Improvement for McGovern Medical School, effective April 1, 2023.
This new position reports to LaTanya Love, MD, dean of Education, and was created to develop, administer, evaluate, and assure the quality of all the school's programs. Neher will work closely with the assistant dean for Accreditation and Quality Improvement, Chase Findley, MD, as well as with McGovern leadership, the Office of Educational Programs, and the Office of Admissions and Student Affairs.
"As director of accreditation, Dr. Neher will develop and oversee processes for compliance within the established accreditation requirements for the Liaison Committee on Medical Education, the Southern Association of Colleges and Schools Commissions on Colleges, and other educational accreditation bodies," Love said. "He also will oversee the processes for monitoring compliance with accreditation standards and continuous quality improvement initiatives."
Neher, who has focused his career in higher education and the effectiveness of educational programs, will continue his appointment as assistant professor in the Office of Educational Programs. He joined McGovern in 2019 as an educational specialist in the Office of Educational Programs. He earned his bachelor's and master's of science degrees from Indiana University and his doctor of education degree from the University of St. Thomas.
"The next LCME survey date is 2027-28, but the process begins long before the visit," Neher said, adding that he also will work with colleagues across UTHealth Houston for institutional accreditation responsibilities with SACSOC and the Texas Higher Education Coordinating Board.
"I hope to accomplish building a well-oiled machine with accreditation and quality improvement built into the DNA of the school," he said. "It is important for schools and universities to constantly examine how they are doing with designing, implementing, and evaluating the curriculum as well as many other areas."
The LCME has 12 standards, each with specific elements. The standards include areas from the mission, learning environment, medical student academic support, and many other key areas for a successful medical school to exist and to prepare graduate students for the next phase of their career.
"I hope to create a culture where accreditation is seen as an opportunity. Although that may sound cliché, the accreditation process is important to ensure the quality of education meets the high standard of our students and faculty, the accreditation body, the US Department of Education, and the public," Neher said. "With these two primary goals, I see our school continuing to deliver a high-quality education as it has done for decades and ensure our full accreditation status remains."
---