Tsong wins 2023 Crow Scholarship
---
---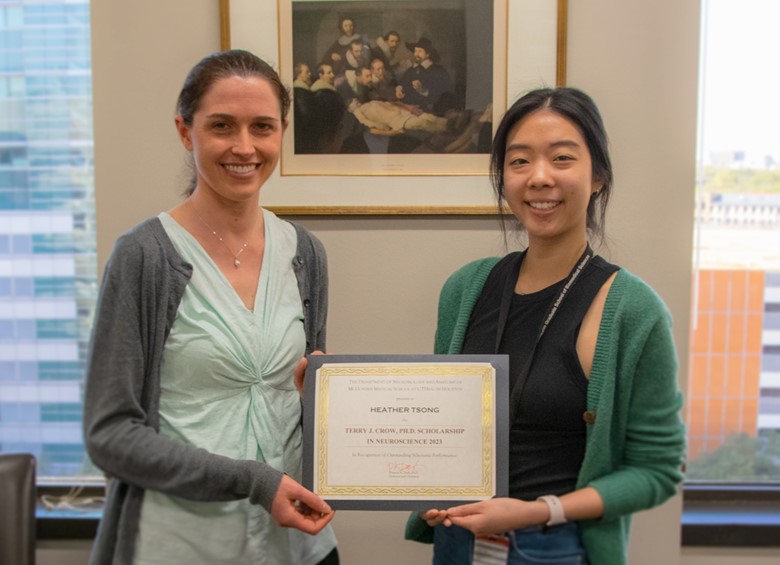 Heather Tsong, PhD candidate in the laboratory of Andrea Stavoe, PhD, in the Department of Neurobiology and Anatomy, is the 2023 recipient of the Terry J. Crow, PhD Scholarship in Neuroscience. Tong received the scholarship for her outstanding scholastic achievements.
"I am honored to receive this scholarship from the department and am excited to utilize this scholarship in the development of my research career," Tsong said.
Tsong received her bachelor's degree in biochemistry and cell biology at Rice University. During her undergraduate education, she conducted research on Biomphalaria glabrata and its potential as a model for snail development.
After completing her undergraduate education, Tsong joined The University of Texas MD Anderson Cancer Center UTHealth Houston Graduate School of Biomedical Sciences. For her doctoral thesis research, she is investigating the molecular mechanisms that neurons employ to regulate autophagy during aging and may help discover novel approaches to target for therapy to treat aging-associated brain diseases.
The Terry J. Crow, PhD Scholarship in Neuroscience was established in honor of the late professor emeritus in the Department of Neurobiology and Anatomy. Crow was an outstanding neuroscientist who studied the cellular and molecular mechanisms of learning and memory. He made seminal contributions to the field, for which he received both national and international recognition.
In addition to Crow's substantial contributions to the research activities at the medical school, he was also a superb educator, who during his 27-year tenure, contributed significantly to the institution's academic mission. He was recognized as one of the best lectures by medical students and was the recipient of the Dean's Teaching Excellence Award for 18 years.
---