From McGovern to TV: Dr. Down Below will see you now
---
---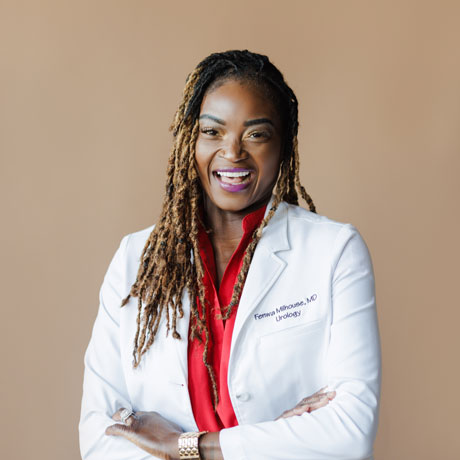 When Fenwa Milhouse, MD, '08, first came to McGovern Medical School (then The University of Texas Medical School at Houston), she had no idea which path she wanted to take in her career. She was admittedly "just excited to be there" and certainly had no intentions of becoming a urologist.
"During my time in medical school, I kind of was crossing off things I thought I might not have been interested in, and I actually crossed urology off my list very early — within the first few weeks," Milhouse said. "When I got to medical school, I didn't even know what it was."
As a Black woman, Milhouse said she felt that she had no business being in the field of urology; thinking that it was a field for men and that she didn't know any women who had become urologists. Because of this, in her second year at McGovern, Milhouse was packing her things to leave a urology lecture early, when in walked Lenaine Westney, MD. Milhouse sat back down and listened to the lecture that would set her on the path to her future.
"I was very inspired and just mesmerized by the fact that here is a Black woman, who is a urologist, and I didn't really even know that those existed," Milhouse said. "So, she became my window into urology, and I really wanted to figure out more about this field. I never honestly thought that there was any way this was a type of field that any Black woman would even be a part of, but I saw myself in her, and I enjoyed urology so much."
After that lecture, Milhouse said she believed she had the ability to be a surgeon, something that she never had considered before. She began working hard to match in urology and found a home in the field at the University of Chicago, where she completed six years of residency.
During residency, Milhouse found the love of her life, got married, had a baby, and then completed a one-year fellowship to become subspecialized in female pelvic medicine, reconstructive surgery.
Seven years after her time at McGovern Medical School, Milhouse entered the workforce and joined the largest private practice in the state of Illinois as the premiere physician for genital urinary reconstruction. However, while seeing hundreds of patients across three counties in the Chicago suburban area, Milhouse decided that she needed freedom to do other things.
"I wanted to take part in a reality show that stars me," Milhouse said. "So, I quit that job and made my own practice so that I could essentially create my own rules. I have now simultaneously opened my own practice in Chicago and filmed a pilot TV show called 'Doctor Down Below' on TLC."
Despite the need to create her own practice and clear legal hurdles by finding patients willing to be on the show, setting up for the show was actually the toughest part. Once that is over, she just gets to do what she's passionate about — being a urologist.
"Having the show is very exciting, but something that is actually more exciting for me is having my own practice," Milhouse said. "When it came to filming, it was actually easy. It wasn't like I was acting. I'm doing what I do every day. I'm talking to people and patients as I would normally. I don't care how many cameras are there or not, my focus is on the patient and their body and getting our mission accomplished in the safest way possible."
Milhouse sees the show as a way for patients to identify with people who may be dealing with conditions that they aren't willing to discuss.
Patients facing urological issues often also face a certain stigma that can cause them to feel shame or embarrassment. They are private matters, on generally private parts of the body, that can be difficult for some people to discuss.
"When I see them, I tell them, 'You are not alone,'" she said. "Everybody's just hiding, so that was huge for me. That was the main thing that I really wanted to portray, and it was important for me to humanize the individuals in the show and show them in a respectful, dignified way because they were being transparent and sacrificing that by allowing me to share their story with the world.
"I literally had a life-changing encounter by seeing and meeting a Black woman urologist. I saw myself in ways that I had not ever imagined and that was important to me. I want others to see themselves in me. Anyone who feels like they don't belong, I want them to see themselves in me and get inspired."
Milhouse said that the creation of her TV show was completely organic, and she didn't apply or seek out anybody in regards to doing the show. Instead, she took to social media, utilizing her platforms on TikTok and Instagram to spread urology education.
"Somebody caught wind of it, liked what they saw, and decided this is somebody that should get a TV show and talk about these things on a TV platform," she said.
The pilot for the show aired on April 5, immediately following "Dr. Pimple Popper," another hit show on TLC. Without the help of any ads to properly highlight or preview the show, "Dr. Down Below" pulled in nearly one million viewers for the inaugural episode. The positive numbers have left Milhouse hoping the show will be picked up full-time.
"We are very, very optimistic that it's going to get picked up for a full season," Milhouse said. "It's show business, so I'm at the mercy of the timeline from a production standpoint, but I'm very excited for the future. I think that this is going to be so different and so well received.
"It's already well received. I can't tell you how many people I've been on the phone with since the show aired that were like, 'Oh my god, you made me feel seen, and now I'm going to go see a urologist for XYZ.'"
Milhouse's passion for urology and educating people on the field have carried her a long way in her career, but it begs the question as to what her career would have looked like had she not attended that fateful lecture in her second year. For Milhouse, "Dr. Down Below" represents that passion and that dedication that could be the inspiration of an entire generation of Black, female urologists.
"There is so little good information that people know about what we do," Milhouse said. "They know us as the prostate people, or potentially the ED people, but there's a lot in between. Now, we're showing the world — and particularly potential patients — what we do, because there's a lot of it.
---