Center for Humanities and Ethics hosts "Primary Care"
---
---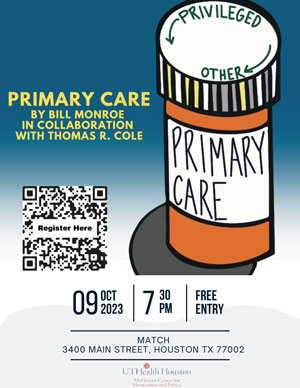 The John P. McGovern, MD, Center for Humanities and Ethics, in collaboration with Thomas R. Cole, PhD, and Bill Monroe, will host a staged reading of "Primary Care," at 7:30 p.m., Oct. 9 at the Midtown Arts & Theater Center Houston (3400 Main St.).
"Primary Care" is a play written by Monroe that raises questions about health care procedures and power relationships, quality of life, and personhood. The play opens with a retrospective soliloquy by Eliot "Stony" Marcher (played by Ralph Biancalana), the chief resident at an urban public hospital.
In the play, an Alzheimer's patient has been fed through a nasogastric tube for over a year when the death of a senior geriatrician forces a reevaluation by the health care team. After Stony and Jolanda Winstone (played by Tanya Fazal), a third-year medical student, reinsert the feeding tube, Marcher pleads with Dr. Marsha LeMarque (played by Martha Hill Jamison), the attending physician, to remove the tube once and for all and let nature take its course.
Mrs. Wynn Brooks (played by Joyce Anastasia Murray), a nurse aid, claims to have a personal relationship with the Alzheimer's patient, and she stands in their way.
The show begins at 7:30 p.m. at MATCH and registration is open for complimentary tickets to the performance. "Primary Care" runs approximately 70 minutes and will be followed by a short Q&A session. The performance is not recommended for younger children.
For more information about "Primary Care," click here, or to contact the MATCH Box Office call 713-521-4533 or email boxoffice@matchhouston.org.
---