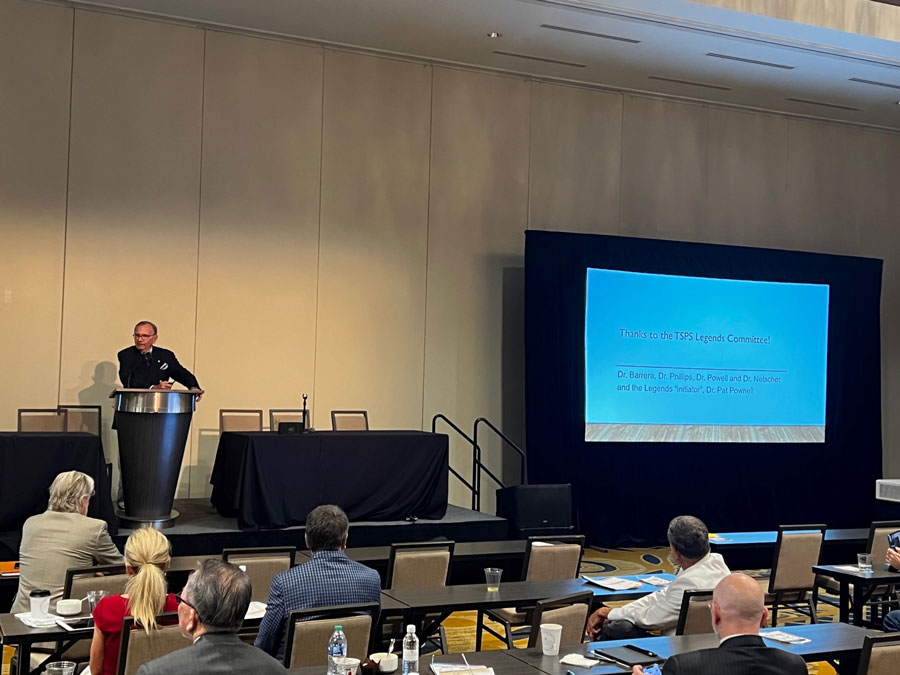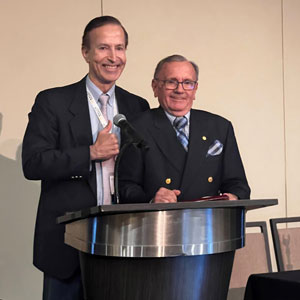 The Texas Society of Plastic Surgeons named Donald Parks, MD, clinical professor in the Department of Surgery, as its Texas Legend at its 2023 annual meeting in San Antonio.
The Texas Legend award is a lifetime achievement honor given to a senior member of the Texas Society of Plastic Surgeons who has provided exemplary clinical and academic work over their lifetime and remained actively involved in the organization.
"My recent selection by the Texas Society of Plastic Surgeons as a Legend in Plastic Surgery in Texas was indeed a great honor and particularly humbling since I was chosen by a committee of my peers – senior plastic surgeons and executives of the TSPS from all corners of the great state of Texas," Parks said. "This recognition allowed me to reflect on 57 years of teaching, clinical practice and research, and the satisfaction of having my career professionally recognized by my colleagues for contributions to plastic surgery in the state."
In accordance with the award, Parks was the keynote speaker for the event, giving his presentation on "A Career in Plastic Surgery and Then Some: Memories from the Beginning."
"The opportunity to present the keynote address provided me an opportunity to recognize my numerous mentors, educational institutions, philanthropies, colleagues, and friends locally, nationally, and internationally who contributed to my exciting career in plastic surgery," Parks said. "Evolving from an early interest in surgery as a career choice and my training at the University of Toronto, my professional career ultimately led to over 43 years of full-time affiliation with The University of Texas, initially at UTMB and Shriners' Hospital in Galveston, and subsequently at UTHealth Houston and McGovern Medical School. I am grateful to so many – the Shriners of North America, the John S. Dunn Foundation, Memorial Hermann Hospital, and of course The University of Texas."
Parks received his medical degree from the University of Western Ontario in 1970 before completing a residency at the University of Toronto in 1975 and a fellowship at UTMB – Shriners Burns Institute in 1976.
At McGovern Medical School, Parks served as Division Director of Plastic Surgery from 1985-2013 and was the inaugural Thomas D. Cronin Chair in Plastic Surgery, an endowment that was sponsored by the Dunn Family Foundation. He worked closely with the Dunn Family to found and expand the burn center at Memorial Hermann-Texas Medical Center and led the service until his retirement. Additionally, Parks founded Camp Janus, an annual camping experience for children who have sustained burns which has served hundreds of children in the state.
"I know of no other career that would have allowed me to care for thousands of patients, instruct many students, residents, and other learners in the art and science of medicine (as I saw it), and to travel and collaborate with colleagues at home as well as in the USSR/Russia, Egypt, Mexico, Central America, and a host of other international sites," Parks said.
The Texas Society of Plastic Surgeons is a recognized voice of plastic surgery for the public, organized medicine, industry, and government and works to position its members for success in a highly competitive environment through education and the development of guidelines and products to enhance the profession.
"The Texas Society of Plastic Surgeons has played a central and powerful role as a sounding board and meeting conduit for many Texas plastic surgeons," Parks said. "Thus, to be recognized by this Texas body as a Legend is particularly meaningful for me."
---