Celebrating Aortic Disease Awareness Day – Sept. 19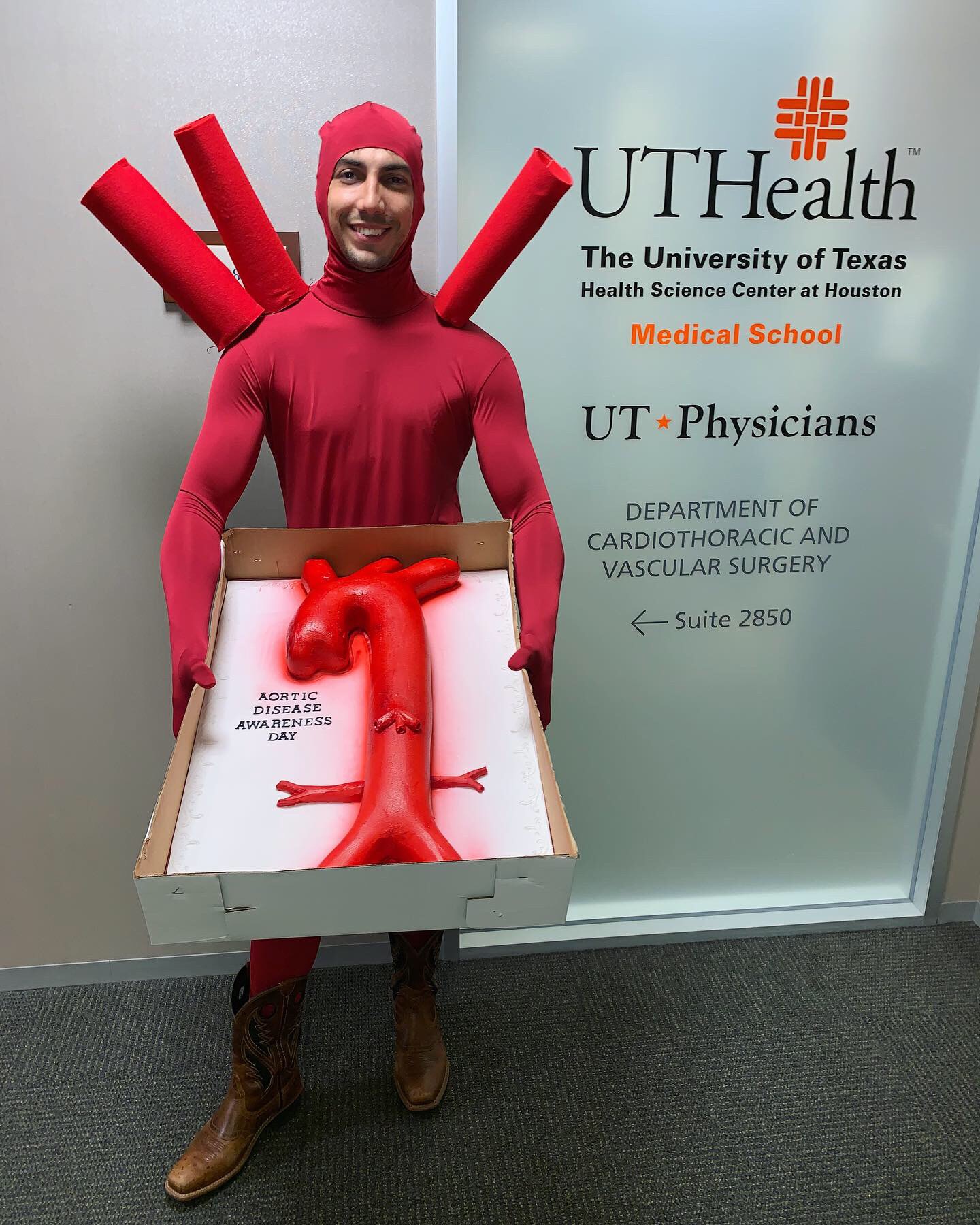 On Thursday, September 19th, our cardiothoracic and vascular surgery clinics celebrated Aortic Disease Awareness Day (ADAD), a day designated to honor, recognize, reflect, and acknowledge the work that goes into treating and overcoming aortic disease.  We also were able to reflect on the hard work our department does for the treatment of aortic disease.  ADAD was developed in 2016 by Timo Soderlund, an aortic dissection survivor in Sweden, in effort to increase education on the aorta and conditions to be aware of.  According to the Marfan Foundation, who now oversees and helps organize ADAD events around the world, "when the date was established, the community voted on the snow leopard to represent these conditions… Timo Söderland explained that that are rare animals; they are beautiful, silent, and hard to find, thus similar to many aortic diseases".  Through the efforts of our department with McGovern Our work in aortic disease is inspired by the determination and the commitment to recovery our patient's and their loved one's face when dealing with these heart and vascular conditions.
Leading up to ADAD with the support of our academic organization, UTHealth (University of Texas Health and Science Center at Houston), and McGovern Medical School, we reflected on the work our group has done over the past few years when it comes to the surgical treatment of aortic disease including awards, innovative procedures, inspiring patient stories, groundbreaking research projects, and nationally recognized specialized care.  In effort to bring awareness about ADAD to our colleagues and public, we highlighted one story each day for seven days leading up to September 19th.  When Thursday rolled around, we celebrated by having our integrated vascular surgery resident Tommaso, delivery a custom Aorta-Cake to our Texas Medical Center clinic dressed as Aorta-Man.  In addition to making appearances at our clinic, Aorta-Man was able to wish our co-workers a very happy Aortic Disease Awareness Day, and recite fun-facts about the aorta to our patients and staff.  The UTPhysician's CVSurgery clinics located in the Houston Community were recipients of beautiful Aorta-Cakes with the expert illustration's done by our very own, Chris Akers, graphic designer for Memorial Hermann Health System, Texas Medical Center, Heart and Vascular Institute.
Following Thursday's ADAD celebration, on Friday, September 20th, founding chair, Hazim Safi, MD presented a special McGovern Medical School Cardiothoracic and Vascular Surgery Grand Rounds presenting on, "Founding a New Department is no Dinner Party," where he reflected on the creation of our department, 20 years ago.
We look forward to the continued annual celebration of ADAD within the UTHealth System, and re-commit the next several years to the treatment, research, and advancements of aortic disease.