February Case of the Month: Open Repair of descending thoracic aortic aneurysm is preferred in patients younger than 50 years
---
---
Naveed U. Saqib, MD, Hunter Ray MD, Gordon Martin MD and Hazim J. Safi MD
Introduction:
Acute Aortic dissection (AAD) remains the most common aortic emergency and results from intimal tear in the layers of the aorta. Without appropriate and time sensitive treatment it carries a high morbidity and mortality. The most widely adopted Stanford classification is simplified version of earlier DeBakey classification and is based on whether the ascending aorta is affected. In type A, ascending aorta is involved; whereas in type B, ascending aorta is spared, with entry tear distal to the left subclavian artery. Type A aortic dissection is surgical emergency. Management of Type B aortic dissection (TBAD) has evolved and now includes medical, surgical and endovascular modalities. Medically managed TBAD need to be followed closely to identify and treat patients who develop aneurysmal degeneration to prevent late aortic related mortality from ruptured aortic aneurysms.
With the recent blanket U.S. Food and Drug Administration (FDA) approval of endovascular stent grafting for type B aortic dissection and subsequent studies revealing excellent short term outcomes, Thoracic endovascular aortic repair (TEVAR) has become first line treatment for descending thoracic aortic pathologies. This has led to extended application of TEVAR in chronic TBAD and younger patients. Despite successful short-term outcomes following TEVAR in younger patients, the durability and long-term outcomes remain a concern in this population.
We demonstrated in a recent publication that patients aged younger than 50 years have superior postoperative outcomes with open repair. 1
Case:
A 48 year-old female patient with chronic type B Aortic Dissection (TBAD) on medical management presented to Memorial Hermann Southeast with aneurysmal degeneration of her descending thoracic aorta (6.4cm) and persistent back pain despite maximal medical management. Given her young age and minimal comorbid conditions the patient was deemed to be a candidate for an open descending thoracic aortic repair. Open repair of descending thoracic aorta aneurysm was performed successfully in Memorial Hermann Southeast with team of surgeons comprising of Associate Professor of Vascular Surgery, Dr. Naveed Saqib, Founding Chari and Professor of Cardiothoracic and Vascular Surgery Department at McGovern Medical School, Dr. Hazim Safi, and Assistant Professor of Vascular Surgery, Dr. Gordon Martin.
After induction of general anesthesia, she was intubated with double-lumen endotracheal tube placed in right lateral decubitus position. A cerebrospinal (CSF) fluid catheter was placed and CSF pressure was maintained below 10 mm Hg. Intraoperative neuromonitoring with somatosensory potentials, motor-evoked potentials was performed. Her descending thoracic aorta was exposed via a modified thoracoabdominal incision. Systemic heparin was administered and left sided heart bypass was established with left inferior pulmonary vein drainage and arterial return through the left common femoral artery. Distal aortic perfusion was commenced as the cross clamp was applied. Graft replacement (reverse elephant trunk) was performed under sequential clamping. Dissection flap extending beyond the distal anastomosis was fenestrated to allow blood flow in both the true lumen and false lumen. The aortic cross clamp time was 75 minutes, pump time was 77 minutes. Postoperatively CSF drain was removed on postoperative day 3. She was discharged home ambulatory on postoperative day 7.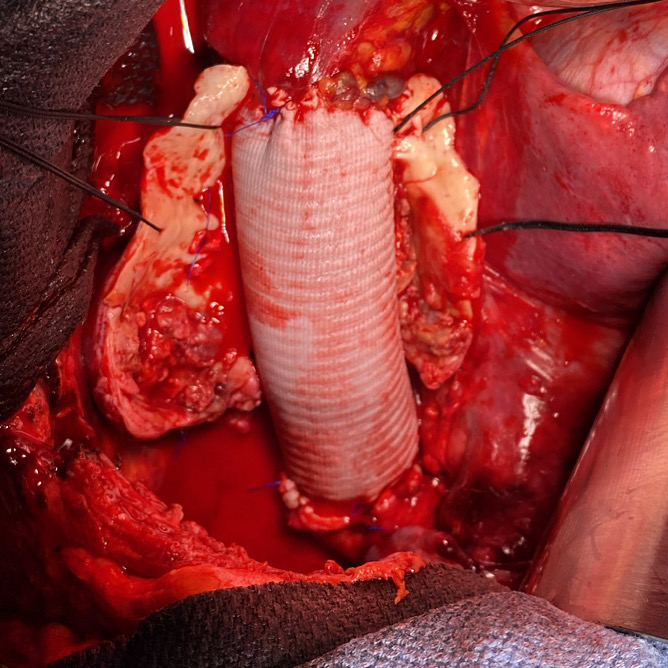 Takeaway Points:
Thoracic endovascular repair has become first line of treatment in treatment of descending thoracic aortic pathologies.
Open surgical repair should be considered initially in younger patients, in patients with genetically triggered aortic disease, and in patients with aneurysms secondary to chronic dissection.
Reference:
1.Tanaka A, Leonard SD, Sandhu HK, Afifi RO1, Miller CC 3rd, Charlton-Ouw KM, Ray A, Hassan M, Safi HJ, Estrera AL.Open Descending and Thoracoabdominal Aortic Repairs in Patients Younger Than 50 Years Old. Ann Thoracic Surg. 2019 Sep;108(3):693-699. doi: 10.1016/j.athoracsur.2019.03.058. Epub 2019 Apr 19.
---