Curriculum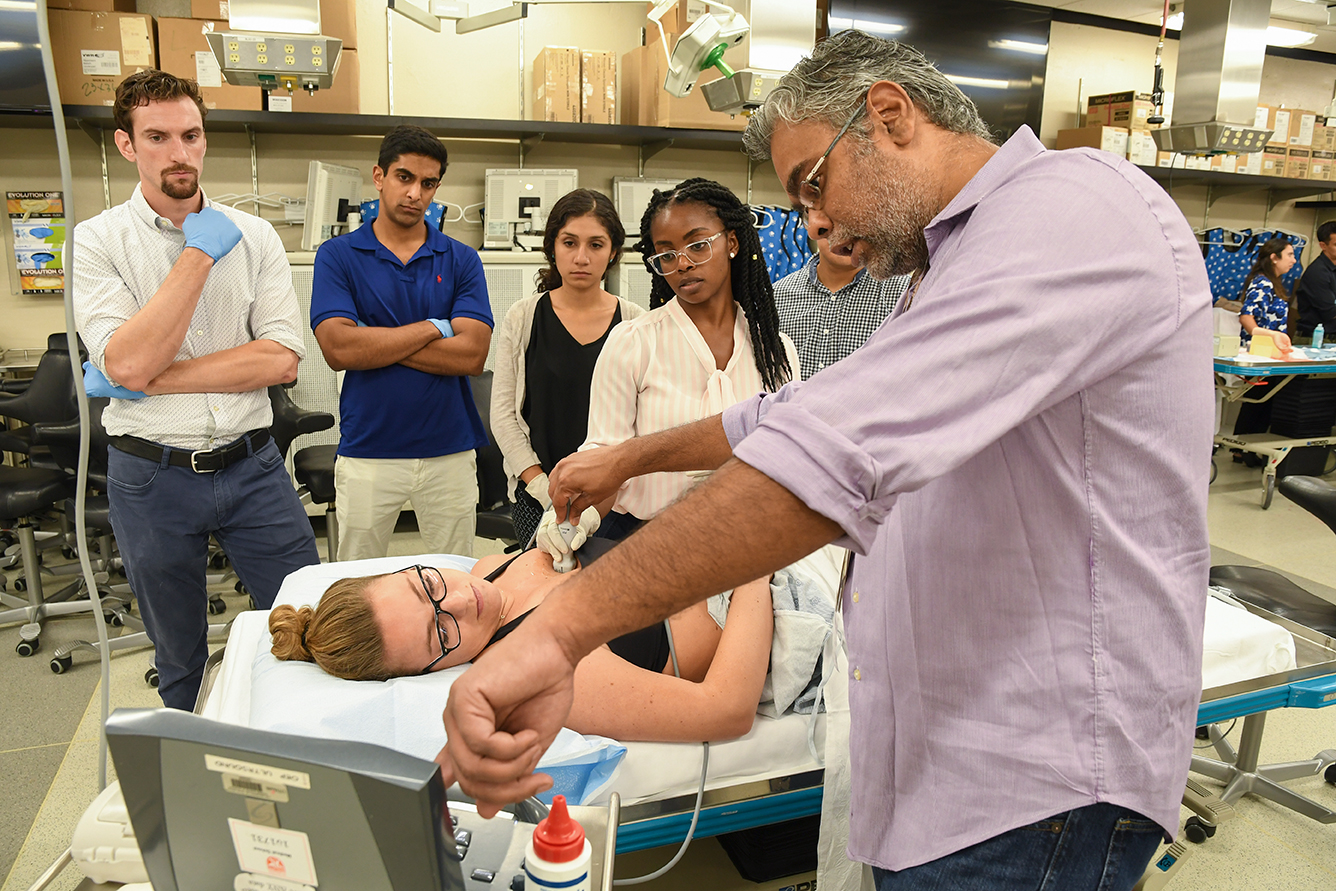 Our academic center recognizes the rising importance and use of point of care ultrasound (POCUS) in medicine. We have a dedicated skills simulation lab with 4 SonoSite M-turbo and 6 SonoSite iViz machines available for use for our residents. Our goal is to create confidence and motivate residents to use POCUS on their patients to guide their decision making. Here are just some of the great resources our program offers:
Dedicated skills lab sessions with standardized patient and faculty proctors
Multi-disciplinary staff with Critical Care, hospitalist & emergency medicine-ultrasound faculty
Supplemented lectures incorporated into our academic curriculum
SonoSIM online case simulation modules
Dedicated faculty time for review of recorded scans on live patients on wards
Certificate of completion to take with you moving forward
Orientation:
We know that intern year is a big transition, so orientation includes opportunities to refresh skills in the procedure lab and with standardized patients.  We also provide a half day of didactics to discuss common emergencies that arise on the floor.
Ambulatory Curriculum:
As a part of our block schedule, we incorporate an educational half day once or twice weekly during every ambulatory block.  The schedule includes all sub-specialties of medicine, including time in our skills lab and professional development related to teaching, research, and wellness.   The last block of the year, residents participate in an end-of-year retreat as a cohort, where they reflect on their year and discuss the transition to the next phase.  Recent retreats have included workshops in Art and Medicine and Culinary Medicine. Sample Ambulatory Curriculum
Inpatient Curriculum:
Additionally, there is noon conference every day, which is case-based and often intersects with other services (for example, medicine-radiology-pathology conference, Patient safety/Morbidity and mortality conference).   Every week there is Grand Rounds, which is a lecture to faculty and residents from an expert in the field.  Finally, every month we have resident support, which is an opportunity for program leadership to hear from the residents about potential areas for improvement.  This has been the impetus for many changes over the years, including the new didactic structure and TV in the LBJ resident library! Sample Conference Schedule
ICU Curriculum:
Residents in the Hermann MICU and CCU have specialized noon conference, which includes topics such as ventilator management and advanced hemodynamics.  They also go back to the skills lab for more practice related to central and arterial line placement.
Online Curriculum:
Not everyone learns best in a classroom, so the program purchases MKSAP for all categorical residents.  They are expected to complete it twice over the three years of residency.  Additionally, all residents complete the Basic Certificate in Quality & Safety from the Institute for Healthcare Improvement.