Breast Oncology
The Breast Oncology team in the Division of Oncology at The University of Texas Health Science Center at Houston (UTHealth) provides comprehensive, patient-centered care for women diagnosed with, or at high risk of, breast cancer. We provide multidisciplinary care throughout the Texas Medical Center campus, including the Memorial Hermann Cancer Center TMC and our high-risk breast cancer service at Bayshore Specialty Clinics.
Mission
Our Breast Oncology team's mission is to:
Provide high-quality, personalized medical care to women diagnosed with, suspected of having, or at high risk for, a breast malignancy in a well-coordinated, multidisciplinary fashion to improve, enhance, and sustain quality of life
Educate current and future health care providers and general practitioners on various aspects of breast cancers
Contribute to advances in biomedical research in the areas of prevention, screening, and treatment
Promote good health in our community through collaborations with physicians and local leaders and patient advocacy groups
Services Offered:
Outpatient Consultation
Our team of highly skilled physicians and nurses provides consultation and management in both the outpatient and inpatient setting at Memorial Hermann TMC, Memorial Hermann Northeast, and UT Physicians Bayshore.
We provide comprehensive care through collaboration with members of the Divisions of Surgery, Radiation Oncology, Pathology, and Radiology and includes multidisciplinary tumor board conferences and coordination of care through the Memorial Hermann Cancer Center.
These services include genetic counseling, infusion services, palliative care, and social work.
Breast Cancer Prevention
We offer Breast Cancer Prevention services at two locations in Houston: UT Physicians Memorial Hermann Cancer Center, and UT Physicians Bayshore Multispecialty Clinic.
We offer a dedicated clinic for women at high risk for breast cancer (due to genetic, familial, or other risk factors).
These services include genetic counseling, nutrition counselling, and weight loss counselling or referrals. The clinic provides a one-stop, supportive environment to manage high-risk women through enhanced screening and surveillance, therapies for prevention, and lifestyle support to manage risk and side effects from therapy.
Clinical Trials
We participate in clinical trials that we feel may benefit our patients to enhance their care. Our doctors would never experiment with cure, or quality of life, so clinical trial enrollment involves a carefully selected well thought out treatment plan with your provider.
Breast Oncology Faculty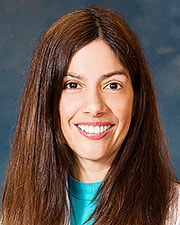 Anneliese O. Gonzalez, MD
Jessica Jones, MD