Hematology/Oncology Fellowship
The McGovern Medical School Hematology/Oncology Fellowship is a 3-year program that provides newly graduated internal medicine physicians with the opportunity to gain a solid foundation in the clinical and research practice of Hematology/Oncology. Our program was accredited in 2016 by the American Council for Graduate Medical Education, the non-profit private council that evaluates and accredits medical residency and internship programs for physicians in the United States. Our program seeks to provide young physicians with the training necessary to enter a clinical practice or research career with confidence. The curriculum grounds our fellows in the basics of Hematology/Oncology, with rotations in both malignant and benign hematology, as well as in solid tumor malignancies.
Mission Statement:
The Hematology/Oncology program at UTHealth will provide the necessary resources for trainees to master the art and science of treating and caring for patients with hematologic and oncologic diseases. The program is committed to train and mentor fellows to improve their clinical abilities and facilitate the development of a clinical career or an investigative pathway for translational and/or clinical research.
Program Aims:
Provide trainees with analytical skills and evidence-based medicine to care for patients with a broad spectrum of hematologic and oncologic diseases. The Program will provide guidance through mentorship for fellows to assure the successful implementation of an appropriate investigative research project and career development plan. Intrinsic to the discipline is scientific knowledge, the scientific method of problem-solving, evidence-based decision-making, a commitment to lifelong learning, and an attitude of caring that is derived from humanistic and professional values. Inpatient and outpatient clinical rotations have been specifically planned to develop clinical excellence and encourage academic discussions and debate.
Hematology/Oncology Fellowship Director:
Dr. Anneliese Gonzalez
, Director and Associate Professor, Division of Hematology/Oncology, received her medical degree from the Universidad Central de Venezuela. After finishing a year of rural medicine, she moved to the United States and completed her internship and residency training in Internal Medicine at Driscoll Medical School-Allegheny General Hospital and a Hematology/Oncology Fellowship at St. Elizabeth's Medical Center of Boston-Tufts University. After finishing her Fellowship training, Dr. Gonzalez went into general hematology/oncology private practice for five years. She joined the Division of Medical Oncology at the University of Texas Health Sciences at Houston in 2010 as Assistant Professor and was made Division Director in 2018. Dr. Gonzalez completed the Health Educators Fellowship at UTHealth Houston in 2013 and the Clinical Safety and Effectiveness Course at UTHealth Houston/MH-TMC in 2015. As a result of her efforts in the medical education field, she has been awarded the Dean's Teaching Excellence Award on multiple occasions and was accepted as a member of the McGovern Medical School Academy of Masters Educators in 2015. Board-certified in hematology and oncology, Dr. Gonzalez specializes in breast medical oncology.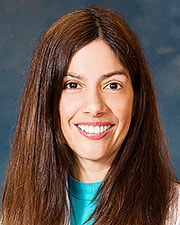 Hematology/Oncology Fellowship Senior Associate Program Director:
Dr. Jessica T. Jones
, Assistant Professor, Division of Hematology/Oncology, received her medical degree from The University of Texas Health Science Center at San Antonio Long School of Medicine. She completed her internship, residency, and hematology-oncology fellowship at the same institution, serving as Chief Fellow her final year. She joined the Division of Hematology/Oncology at The University of Texas Health Science Center at Houston in 2019 as Assistant Professor in breast medical oncology. Her passion for preventive care led her to spearhead the founding of the UT Physicians Breast Cancer Prevention Clinic in 2020. Dr. Jones is the head medical oncologist for our sarcoma treatment program, as part of which she is involved in a translational research study into the use of patient-derived cell clusters to predict treatment response. She has been the recipient of the Dean's Award for Excellence in Teaching each year since her arrival and was awarded the Champions of Clinical Learning Environment for McGovern Medical School in 2021.
Associate Program Directors:
Dr. Modupe Idowu
earned her medical degree and completed a residency at the Texas Tech University Health Sciences Center Medical School in Lubbock. Her Fellowship training was at the University Of Florida College Of Medicine in Gainesville. Board certified in Internal Medicine and Hematology, Dr. Idowu's clinical interests include anemia, thrombocytopenia, leukopenia, sickle cell anemia, coagulopathy myelodysplastic syndrome, myeloproliferative neoplasms, including polycythemia vera, essential thrombocythemia and myelofibrosis, multiple myeloma, bone marrow disorders, and leukemias, including chronic myelogenous leukemia. An Associate Professor of Hematology/Oncology at the University of Texas Health Science Center at Houston (UTHealth) Medical School, Dr. Idowu has repeatedly earned the Dean's Teaching Excellence Award. She also won the 2007 Henry Christian Award from the American Federation for Medical Research.
Dr. Syed H. Jafri
is an Associate Professor of Medicine in the Division of Hematology/Oncology. He received his medical degree from The Aga Khan University, Pakistan. He completed his residency at Indiana University and Fellowship at LSU. He stayed as faculty at LSU for 4 years and developed Thoracic/Head and Neck Oncology program. He has been a principal investigator of several cooperative groups, industry sponsored and investigator initiated clinical trials involving Lung and Head and Neck Cancers. He has also been involved in basic science lung cancer research. His current area of interest is inflammation in cancer.
Dr. Jafri pursued an extra Fellowship in Integrative Medicine from The Arizona Center of Integrative Medicine under the directorship of Dr. Andrew Weil and started a very popular integrative medicine program at LSU. He joined UTHealth in November 2013 to head our thoracic and head & neck oncology program. He is Board certified in hematology and oncology.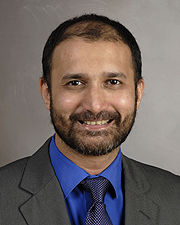 Core Faculty:
The Fellows in the Hematology/Oncology Fellowship enjoy the expertise of institutionally based core faculty members who serve as key faculty. They are expert competency evaluators who work closely with the Program Director and Associate Program Directors in development and implementation of the evaluation system and in teaching and advising the Fellows. Each core faculty is ABIM certified in their respective subspecialty and are clinically active in both direct patient care and observation of Fellows in their patient care. Each key faculty member is accountable to the Program Director for coordination of the Fellows' educational experiences in order to accomplish the goals and objectives of each rotation. The Key Faculty also participate in the mentorship program available to Fellows to help guide and provide advice about career and educational goals.