Virtual Presurgical Planning Optimizes the Outcome for a Patient with Ameloblastoma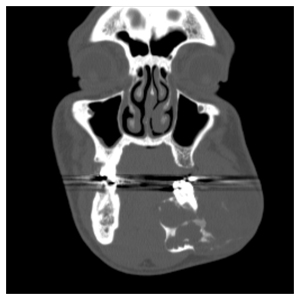 By the time 31-year-old Marcus King saw Ron Karni, MD, and Kunal Jain, MD, the ameloblastoma encompassed the majority of his left jaw, resulting in extreme asymmetry of his face. In a 12-hour surgery, the two surgeons worked together to resect the tumor and reconstruct King's jaw. Today, he has a normal appearance, with scars that are barely visible.
Ameloblastomas easily infiltrate and destroy surrounding bony tissues which usually requires extensive surgical excision. Removal of the rare, slow-growing tumor and subsequent reconstruction of King's lower mandible is a story of collaboration between Dr. Jain, who is fellowship-trained in head and neck oncology and microvascular reconstruction, and Dr. Karni, chief of the Division of Head and Neck Surgical Oncology in the Department of Otorhinolaryngology – Head & Neck Surgery at McGovern Medical School at UTHealth. The two surgeons often work together on complex cases, aided by specialty-trained teams of nurses and OR staff.
"At first the tumor didn't grow fast," says King, a former semipro football player who remembers having a bad toothache, then noticing a little lump months later. "Suddenly, during the year before the surgery, it doubled or even tripled in size." He saw three doctors before he was referred to Dr. Karni, who brought Dr. Jain in on the case.
The two specialists planned King's surgery in advance using virtual technology. "Because reconstruction would require removal of a segment of the fibula and surrounding tissue and reattachment of the vascular pedicle to the neck, Dr. Jain's role was particularly important," Dr. Karni says. "We used a specially designed virtual surgery planning system and worked with a systems engineer to map out the procedure using computer simulation."
Their goal was to replicate the native jaw as closely as possible. "When we reconstruct a jaw, we want the patient to have good occlusion of the teeth on the opposite side, a good base for future implants in the reconstructed mandible and a good external contour for cosmetic reasons," Dr. Jain says. "During the 3D planning we worked together to create a model of the jaw based on Mr. King's original scans and a model of how the bone will fit when we reconstruct it from the fibula. What we're planning is essentially a transplant procedure – transplanting his fibula and reshaping it to create the new mandible. Using the model in the OR, we made the cuts in the fibula and shaped it while the bone was still attached to the blood supply in the leg. Then we cut the vessels in the leg and brought the bone and tissue up and attached them to the jaw, revascularizing the transplanted bone and soft tissue using microvascular surgical techniques."
Before surgeons had the capability to simulate this type of reconstructive surgery with presurgical planning, they had to make multiple bone cuts and continue to reshape them to fit the jaw, a time-consuming process. Once the tissue has been removed from the leg, the surgeons are in an ischemic time crunch: their goal is to inset the pedicle in the new location and revascularize it within two hours. Virtual preplanning shaves hours off a very long procedure.
At the time of the surgery, Dr. Karni and Dr. Jain accompanied King to the OR. While Dr. Karni resected the ameloblastoma, dissected the blood vessels to prepare the jaw and recipient bed for the free flap, and placed a temporary plate to replace the large missing segment of jawbone, Dr. Jain was working on the leg, attaching plastic guides to the fibula showing the exact angle and depth of cuts to make.
"By working simultaneously, we reduced the amount of time Mr. King was under anesthesia," Dr. Jain says. "Everything happened quickly and precisely, which improved the chances of survival of the graft."
About a month after the surgery, King was back to eating, talking and swallowing normally. "It was a very difficult experience," he says. "Imagine hearing that you're going to lose your teeth and jaw. After the initial shock, Dr. Jain made me feel comfortable by explaining everything that would happen during and after the surgery."
Following the procedure, King, who is an overhead crane operator at a steel supply warehouse, had to relearn how to balance and walk. He wore a boot for about a month, and used crutches and later a walker to ambulate. He rehabbed himself by walking up and down stairs, and within a month he was back in his tennis shoes. He returned to work on Oct. 30, 2016, three months after the surgery.
"They told me I recovered fast," he says. "I don't like laying around, and I wanted to get back to work. Dr. Jain and his staff were really nice and concerned about my wellbeing. Now everything's looking good."
"When Mr. King came in he was very disfigured, and now his left jaw is almost perfectly aligned with the right," Dr. Karni says. "He came through it with flying colors, a testimony to his desire to recover and regain function. Thanks to the handiwork of Dr. Jain, a young man is back on the job."
Dr. Jain cites the outcome as an excellent example of the value of presurgical planning in improving patient safety and optimizing the overall result in a surgery that requires a very high level of precision. "With surgery we were able to give Mr. King back the function he lost," he says. "To take a patient with a life-changing health issue like his and get him back to normal is very rewarding."
Schedule an Appointment
Call Us
To schedule an appointment over the telephone, give our office a call at 713-486-5000.
Online Appointment Requests
Patients may submit their appointment requests through our online Appointment Request Form.
ScheduleNow allows you to book your appointment online with just a few clicks.
Current patients can contact us through our patient portal MyUTP.