UTHealth ORL is the First in the U.S. to Use New Sinus Navigation System
---
---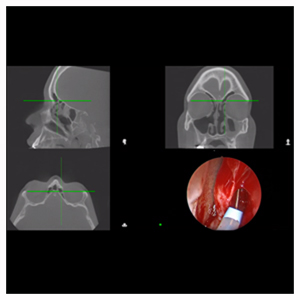 Rhinologic surgeons at the McGovern Medical School at UTHealth were the first in the United States to use a new surgical navigation platform introduced by Acclarent, Inc., a Johnson & Johnson company.
"The new navigation platform has several unique features," says Martin J. Citardi, MD, who is professor and chair of otorhinolaryngology at the medical school, and chief of the service at Memorial Hermann-Texas Medical Center. "It uses a new generation of hardware with microsensors that can be passed through hollow-bore instruments. The system tracks the position of the microsensor and projects CT scan data on a dedicated computer screen. Dedicated 3D views give the surgeon a unique perspective of each surgical target."
Since its introduction more than 20 years ago, surgical navigation has had an enormous impact on endoscopic sinus and skull base surgery. Although the technology is commonly used for many surgical procedures, surgeons have noted its limitations, including periods of suboptimal performance during the most critical parts of procedures.
"Most commercially available navigation systems use similar hardware," Dr. Citardi says. "Updates to this hardware offer the promise of more reliable tracking during actual surgery." In this context, the Acclarent navigation system uses unique hardware and novel software, features that represent a break from other commercially available systems.
Dr. Citardi believes that imaging technology is on the cusp of major advances for sinus and skull base surgeons and their patients. "In the not-so-distant future, a surgeon may be able combine high-quality surgical video, standard CT views, 3D models based upon the CT data and preoperative planning into unified views of patient anatomy and surgical targets. Bringing all of the relevant information together may significantly improve surgical outcomes and reduce surgical risks," he says.
Note: Martin J. Citardi, MD serves as a consult for Acclarent's navigation project.
---