Houston Otolaryngologist Battles Hurricane Harvey
---
---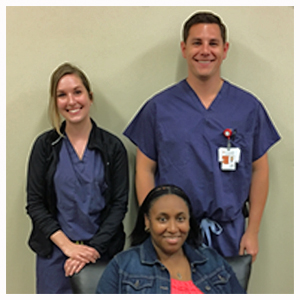 When Ronda Alexander, MD agreed to switch call with a colleague, she had no idea the change would end up putting her on-call and trapped in the hospital during the worst natural disaster to hit Houston this century.
Dr. Alexander, a laryngologist, Assistant Professor and Otolaryngology Residency Program Director at McGovern Medical School, a part of UT Health (Houston), says on the Friday Hurricane Harvey began, she was able to operate and make it home that night.
But by Saturday morning the waters began to rise, and she knew things were getting serious.  "I had a PGY3 and PGY4 resident in-house, so I decided to head in," she said. That started a 3-day stay in the water-locked hospital from Saturday morning until she was finally able to go home on Tuesday night.
During the peak flooding on Saturday and Sunday, the water engulfed Fannin Street, and the hospital was totally cut off from any human traffic in or out.  "I could see cars submerged on Fannin out in front of the hospital, and the lower floors of the hospital took on some water as well."  Dr. Alexander was briefly able to text a neighbor to find out if her own home survived the hurricane, which luckily it did without sustaining damage.
"We had to do a lot of prioritization and conservation of resources in this time of expected scarcity," Dr. Alexander said.  With only 3 anesthesiologists and 5 scrub techs to keep the entire hospital working for several days, everybody had to think carefully and work together to care for patients under very trying circumstances.
Whether it was taking care of ENT service patients or doing consults, she and her two residents barely had time to tend to themselves. "I had to force one of my residents to take a nap," she said.  Defying what some would say is a less vigorous work ethic in the younger generation of physicians, the hospital's residents were so dedicated and so focused, they had to be told to be mindful of their own health.  And when a neurosurgical consult turned into an emergent combined ENT/Neurosurgery procedure in the midst of the crisis, everything went as smoothly as you could possibly imagine.
"We had no idea what the resources were going to be, nor how long we would need to hold out."  Dr. Alexander went on to say.  From food service workers to facilities management employees, nurses, and doctors, everyone worked together to tackle problems and take care of each other, all-the-while maintaining the highest level of care for the patients stranded in the hospital with them.  With most of the "C-Suite" hospital leadership trapped outside the hospital, she witnessed "small pods of leadership spring up to deal with every situation, and determine what's a real emergency and what's not."
"From the patient standpoint, the care was seamless in terms of what we were able to provide, and was no different than on any other day in the hospital," Dr. Alexander said.
The biggest advantage Dr. Alexander saw was the experience gained from tough lessons learned in prior major storms.  "With Tropical Storm Allison in 2001, there were still laboratories, animals, and generators on the basement floors.  But now, they've redesigned the hospital such that only classrooms are in areas that can be flooded, which may be inconvenient, but is much better than losing power, which we avoided in this hurricane."
Despite the overwhelming magnitude of the flooding and damage, and the fact that many areas of greater Houston and the Gulf Coast are still inaccessible to this day, the McGovern Medical School Clinic system has been able to rapidly recover and continues to treat patients. "By the Thursday after Hurricane Harvey, we opened up our Otolaryngology office, and on Friday—only one week after the storm—we were back functioning at 100%, ready to serve the community's health needs."
Reprinted from the Texas Association Newsletter (Fall, 2017).
---