Non-Pharmacologic Relaxation Therapy for In-office ENT Procedures
---
---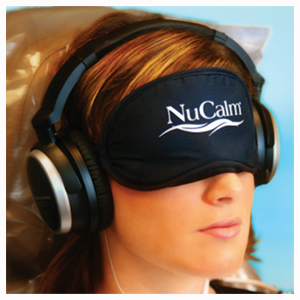 Rhinologic surgeons in the Department of Otorhinolaryngology-Head and Neck Surgery at McGovern Medical School at UTHealth are among the first in the nation to use NuCalm® for natural stress relief during office-based nasal and sinus procedures. Used by dentists to promote a relaxed and comfortable dental experience, NuCalm creates deep relaxation without narcotics or other controlled medications, causes no significant side effects and requires no recuperative time or supervision.
When Martin J. Citardi, MD, professor and chair of the department and chief of otorhinolaryngology at Memorial Hermann-Texas Medical Center, first came across the system, he saw potential applications in the ENT office. "We saw an opportunity to improve our patients' experience during office-based procedures by using what many dentists use to relax their patients," Dr. Citardi says. "Our goal is to move care outside the hospital whenever possible to a patient-friendly and lower-cost environment.  NuCalm is ideally suited to facilitate office-based procedures. It creates relaxation, is relatively inexpensive and no IV sedation or general anesthesia is required."
NuCalm uses biochemistry, physics and neurophysiology to relax the brain and body, quickly bringing patients to pre-sleep states characterized by deep relaxation. It takes less than five minutes to administer the components, which include a topical cream that counteracts adrenaline, microcurrent stimulation patches placed behind each ear, noise-reducing headphones that use neuroacoustic software to bring the patient's brain waves to a pre-sleep state and eye masks that block visual stimuli and help maintain the relaxation state.
For the first year the physicians used it, they tracked patients' self-reported anxiety levels. "They had anxiety before the procedure, but none during or after," says Amber U. Luong, MD, PhD, associate professor and research director in the department. "I've actually had a patient fall asleep during a procedure to remove nasal polyps.  It's a great complement to local anesthetics."
---