Dr. Michael Byrd Named 2017 Physician of the Year at Memorial Hermann Southeast Hospital
---
---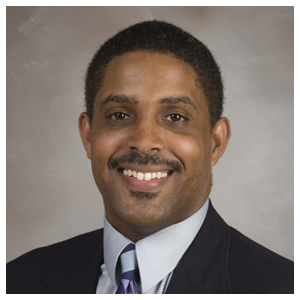 Otolaryngologist Michael Byrd, MD, has been recognized as 2017 Physician of the Year at Memorial Hermann Southeast Hospital, a 274-bed facility serving families in the Bay Area of Houston. Prior to being named Physician of the Year, he served a one-year term as chief of surgery.
"Dr. Byrd has served our patients with skill and compassion, providing exceptional patient care and setting the highest standard for our clinicians and our community," says Kyle Price, CEO of Memorial Hermann Southeast Hospital and Memorial Hermann Pearland Hospital. "He's a highly trained clinician who manages a busy practice and still finds time to give patients his undivided attention and respect."
An assistant professor in the Department of Otorhinolaryngology-Head and Neck Surgery at McGovern Medical School (part of The University of Texas Health Science Center at Houston), Dr. Byrd received his medical degree from Morehouse School of Medicine in Atlanta, Georgia, and completed his residency at the Head and Neck Institute of The Cleveland Clinic Foundation. He served on the staff at Cleveland Clinic's Head and Neck Institute in the Department of Otolaryngology and Communicative Disorders, and practiced at Albany ENT & Allergy Services in Albany, New York, prior to joining UTHealth.  While at The Cleveland Clinic, Dr. Byrd received a Cleveland Clinic Innovator Award and the Bruce Hubbard Stewart Award for his ability to combine sensitivity and compassion with knowledge and skill in the practice of medicine. Dr. Byrd is certified by the American Board of Otolaryngology-Head and Neck Surgery.
"I'm honored to be named Physician of the Year," he says. "It's a privilege to care for patients, and I hope my patients feel valued, appreciated and respected. I'm fortunate to work with a talented group of clinicians and an accomplished leadership team at Memorial Hermann Southeast Hospital. We're all in this together and well aware that excellence requires close collaboration and teamwork."
Dr. Byrd provides general ENT services for adults, adolescents and children at Memorial Hermann Southeast Hospital, Memorial Hermann Pearland Hospital and UT Physicians specialty clinics. He has a special interest in thyroid and parathyroid disorders, salivary gland diseases, laryngeal disorders, ear infections, and tonsil and adenoid diseases, as well as conditions of the nose and paranasal sinuses.  In conjunction with UTHealth Audiology, Dr. Byrd evaluates hearing loss, dizziness and related conditions. He has a subspecialty interest in the ENT conditions that contribute to sleep disorders, including common snoring and obstructive sleep apnea conditions.
---