Audiology Open House a Success
---
---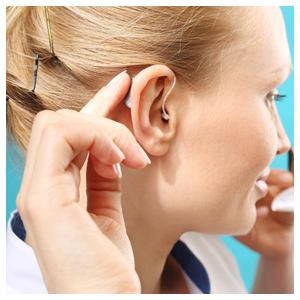 The Audiology team at UT Physicians Otorhinolaryngology-Texas Medical Center held a well-attended, day-long open house for individuals in the community living with hearing loss.
"As always, our top priority is to diagnose, treat and educate people with hearing loss to improve their quality of life by reconnecting them with people and the world around them," says Mackenzie Hill, AuD. "Hearing loss is the third most common chronic disease affecting adults – about 50 million people worldwide. With the aging baby-boomer population, we expect those numbers to rise as one out of three adults 65 years of age and older develop hearing loss. By opening our doors, we hoped to remove any hesitation people may have that prevents them from seeking help in hearing and to show that, in the modern age, untreated hearing loss is more noticeable than wearing hearing aids. My hope is that the motivation baby boomers have shown toward healthy aging will be applied to hearing health care."
In addition to free hearing screenings and hearing-aid consultations, the team offered a discount on hearing aids purchased during the event. Attendees had the opportunity to try out the latest technology and learn firsthand about recent advances. New technology now combines the small size of an in the ear canal hearing aid with convenience of wireless connection to Apple's iPhone—a convenient combination for hands-free control and direct audio streaming.
The event was held at UT Physicians Otorhinolaryngology-Texas Medical Center, a clinical practice site for the Department of Otorhinolaryngology-Head & Neck Surgery at McGovern Medical School at UTHealth.
---