Texas Hill Country ENT Symposium Scheduled for April 2018
---
---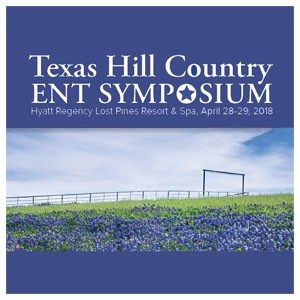 Mark your calendars for the McGovern Medical School Department of Otorhinolaryngology-Head and Neck Surgery's two-day CME meeting in the Texas Hill Country–2018 Texas Hill Country ENT Symposium.
The event will focus on evidence-based treatments for common diseases and disorders of the ears, nose and throat, and related structures. Participants will gain new information and insights that can be applied at the point of care in otorhinolaryngology outpatient offices. In addition, new technologies that offer better outcomes, cost savings and convenience will be presented as solutions for common otolaryngologic clinical problems.
The 2018 meeting will take place on Saturday, April 28, and Sunday, April 29, at the Hyatt Regency Lost Pines Resort and Spa near Austin, TX. All sessions will be held in the morning, allowing participants time to pursue recreational activities at the renowned resort in the afternoon. The meeting style is informal to give participants and faculty the opportunity to interact freely. A welcome reception, including pre-meeting registration, will be held the evening of Friday, April 27.
Four course modules will be presented: Sinus, Head & Neck, Pediatric ENT and General ENT.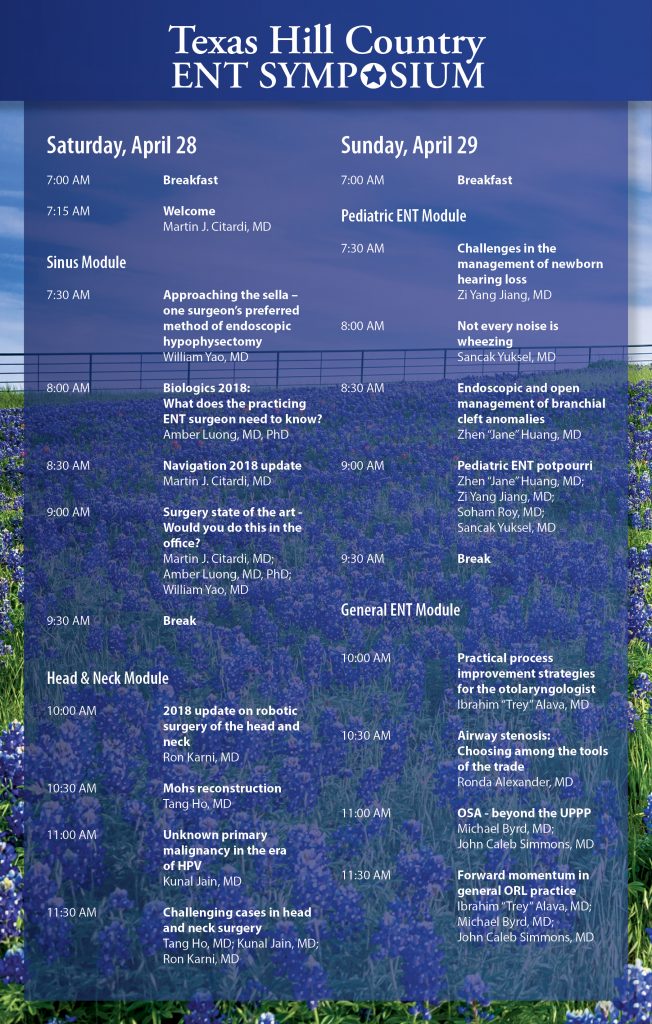 Martin J. Citardi, MD, Ron Karni, MD and Amber U. Luong, MD, PhD serve as course directors for the meeting as well as course faculty. Other course faculty members include Ibrahim "Trey" Alava, MD, Ronda Alexander, MD, Michael Byrd, MD, Tang Ho, MD, Zhen Huang, MD, Kunal Jain, MD, Zi Yang Jiang, MD, Soham Roy, MD, FACS, FAAP, J. Caleb Simmons, MD, William C. Yao, MD and Sancak Yuksel, MD.
For more info, please visit www.texasentmeeting.org.
---