Dr. William Yao Serves as Guest Editor of Otolaryngology Journal
---
---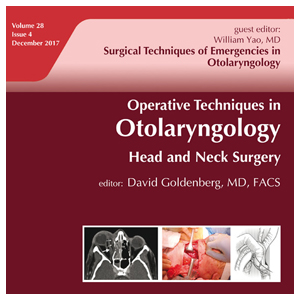 William C. Yao, MD, was guest editor of  "Surgical Techniques of Emergencies in Otolaryngology,"  in recent issue of Operative Techniques in Otolaryngology. Dr. Yao, who specializes in rhinology and anterior skull base surgery at McGovern Medical School at UTHealth and Memorial Hermann-Texas Medical Center, has a strong interest in residency education and the development of teaching instruments.  In 2017, he was selected Faculty Member of the Year by otorhinolaryngology residents at UTHealth.
"It was an honor to serve as guest editor of this particular issue, which I hope will serve as a guide to all otolaryngologists and especially to residents, who are often the first to encounter patients with these emergencies," says Dr. Yao, an assistant professor of otorhinolaryngology-head and neck surgery who serves on the editorial board of the journal.  "This year-long project required significant time commitment and coordination, which was professionally very fulfilling as it came to fruition.  I want to thank Dr. David Goldenberg, editor-in-chief, as well as the authors and medical illustrators for sharing their time and expertise.  The issue would not have been published without them."
For more than two decades, Operative Techniques in Otolaryngology has been the go-to resource for all levels of learners. The peer-reviewed, procedure-driven, atlas-style journal publishes new and cutting-edge techniques in otology, rhinology, laryngology, head and neck surgery, pediatric otolaryngology, and facial plastic and reconstructive surgery. Each issue features a central theme by anatomic area or disease process, and journal content addresses relevant anatomy, surgical options for treatment or rehabilitation, diagnosis and imaging, and complications.
"It was a major academic effort to complete this issue, with contributing authors from across the country, including several from our own department at UTHealth," says Dr. Yao, who serves as a co-director of the Texas Sinus Institute Rhinology and Skull Base Fellowship, with Amber U. Luong, MD, PhD, an associate professor and research director in the department, and Martin J. Citardi, MD, professor and chair of the department.  UTHealth faculty took the lead in authoring various sections, including Ibrahim Alava, MD, chief of the otolaryngology service at Lyndon B. Johnson Hospital; Kunal Jain, MD, a head and neck oncology and microvascular specialist; and Zi Yang Jiang, MD, a pediatric specialist. Drs. Citardi and Luong, both rhinologists, co-authored sections as well.
Table of Contents
Introduction
Management of parapharyngeal and retropharyngeal space infections
Multimodal management for acute invasive fungal rhinosinusitis
Emergency operative airway techniques
Pediatric airway foreign body
Management of retrobulbar hematoma
Endoscopic management of anterior and posterior epistaxis
Information for authors
Cervical and craniofacial necrotizing fasciitis
Operative management of catastrophic bleeding in the head and neck
Orbital complications of acute sinusitis
Masthead
Editorial Board
Bleeding after tonsillectomy
Laryngeal trauma with and without tracheal separation
Coalescent mastoiditis
Temporal bone fracture requiring facial nerve decompression or repair
---