Dr. Alex Chiu to Speak at ORL Frontiers 2019
---
---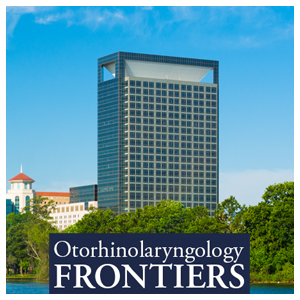 Alexander G. Chiu, MD, will be the guest of honor at ORL Frontiers 2019, which will be held on Friday, June 28, 2019 in the Fayez S. Sarofim Research Building, the site of the Brown Foundation Institute for Molecular Medicine. This annual event highlights emerging technology in the diagnosis and management of common otolaryngologic clinical problems and the research productivity of members of the Department of Otorhinolaryngology-Head and Neck Surgery at McGovern Medical School at UTHealth. This year's ORL Frontiers will focus on rhinology with case presentations which evaluate the amount of sinus surgery indicated, and a panel which focuses on how to maximize sinus surgery outcomes.
Dr. Chiu is the Russell E. Bridwell, MD Chair and Professor in the Department of Otolaryngology, Head and Neck Surgery at the University of Kansas in Kansas City, Kansas, and a fellowship-trained rhinologist. He will present two lectures: "Frontal Sinus Surgery for Benign and Inflammatory Disease" and "Strategies to Modernize an Academic Clinical Department."
Before his appointment at the University of Kansas, Dr. Chiu was the founding chair of the Department of Otolaryngology-Head and Neck Surgery at the University of Arizona. He has held multiple leadership roles since beginning his career as a faculty member at the University of Pennsylvania. His academic and clinical focus is endoscopic and minimally invasive surgery of the nose, sinuses, and skull base, and he is actively involved in research on chronic rhinosinusitis, sinonasal tumors, and outcomes of sinus and skull base surgery. He holds multiple foundation and industry grants.
Dr. Chiu received his medical degree at Albany Medical College, and completed residency training at Georgetown University Medical Center, followed by a fellowship in sinus and skull base surgery at Stanford University. He is the editor-in-chief of ENT Today, a publication of the Triological Society; past editor-in-chief of the American Journal of Rhinology and Allergy; and the editor of two textbooks: Sinonasal Tumors and Atlas of Endoscopic Sinus and Skull Base Surgery. He has published more than 130 peer-reviewed articles and book chapters on sinus and skull base surgery, and is the recipient of the Honor Award from the American Academy of Otolaryngology-Head and Neck Surgery. Dr. Chiu has directed more than 15 international rhinologic and skull base conferences and is a frequent invited lecturer and instructor at grand rounds, as well as society meetings of the American Academy of Otolaryngology-Head and Neck Surgery, American Rhinologic Society, and North American Skull Base Society.
There is no charge to attend ORL Frontiers. For more information and to register, please visit www.orlfrontiers.org.
Schedule an Appointment
Call Us
To schedule an appointment over the phone, give our office a call at (713)-486-5019.
Online Appointment Requests
Patients may submit their appointment requests through our online Appointment Request Form.
Both current and new patients can request appointments through MyUTHealth, our patient portal.
---