Dr. Amber Luong Spearheads International Day of Women and Girls in Science Symposium at UTHealth
---
---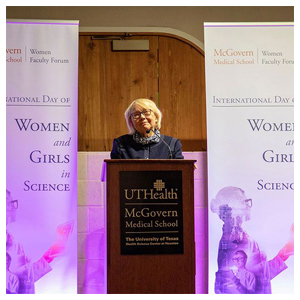 In most countries the number of women entering STEM fields (science, technology, engineering, and mathematics) as undergraduates is equal to or greater than the number of men. But it is generally acknowledged in the literature that women in these fields face challenges in terms of salary, promotions, leadership positions, and research funding. As a surgeon-scientist and tenured associate professor in the Department of Otorhinolaryngology-Head and Neck Surgery at McGovern Medical School at UTHealth, Amber U. Luong, MD, PhD, is among the minority who have successfully advanced their careers. With an active practice focused on the medical and surgical management of rhinologic and skull base diseases, she also runs a basic science immunology lab focused on understanding the pathophysiology of chronic inflammatory respiratory diseases.
A strong proponent of acknowledging, supporting, and recognizing the achievements of women in science and medicine, Dr. Luong is a founding member of the medical school's Women Faculty Forum, whose mission is in part "to advocate on behalf of the women faculty at McGovern Medical School." She is also the founder of Women in Rhinology, which became the first formally recognized section of the American Rhinologic Society.
"When I learned about the International Day of Women and Girls in Science, I thought it was an excellent opportunity to create a symposium to highlight our institution's accomplished women in clinical and basic science," Dr. Luong says.
She pitched the idea to Barbara Stoll, MD, dean of McGovern Medical School and the H. Wayne Hightower Distinguished Professor in the Medical Sciences, and to Kevin Morano, PhD, professor in the Department of Microbiology and Molecular Genetics, who is associate vice president of faculty affairs and development at UTHealth. Both were supportive of the idea.
"Dr. Luong is a wonderful example of the engaged women faculty at McGovern Medical School," says Dean Stoll. "She has been actively involved with our Women Faculty Forum, a group that promotes conversation around issues that are important to women faculty. Women are making an impact every day in medicine, and the WFF helps us to recognize and support their efforts. Dr. Luong was the driving force behind this year's celebration of International Day of Women and Girls in Science, an event that we hope to celebrate every year going forward."
The day of recognition goes back to 2015, when a United Nations summit of world leaders adopted the 2030 Agenda for Sustainable Development with the goals of tackling poverty, inequality, and climate change. Along with the recognition that these ambitious goals would require scientific innovation and collaborative effort worldwide, the group acknowledged that women are underutilized in STEM areas. To address these gender inequalities and encourage women to enter STEM fields, the U.N. adopted a resolution recognizing Feb. 11 as the International Day of Women and Girls in Science.
"We are supporting these worldwide goals through an annual local effort to highlight McGovern Medical School's successful women involved in research," says Dr. Luong. "We hope our efforts inspire both women and men to participate in research and science."
One hundred twenty-five people attended UTHealth's International Day of Women and Girls in Science Symposium held at the medical school on Feb. 11. Invited guest speaker Joan Bennett, PhD, Distinguished Professor of Plant Biology and Pathology at Rutgers University, spoke on "The XX Factor: Women in Science, Engineering, and Medicine." The program also highlighted two basic scientists and two physician-scientists who are faculty at McGovern Medical School.
Schedule an Appointment
Call Us
To schedule an appointment over the phone, give our office a call at (713)-486-5019.
Online Appointment Requests
Patients may submit their appointment requests through our online Appointment Request Form.
Both current and new patients can request appointments through MyUTHealth, our patient portal.
---