Minimally Invasive Surgery Provides Quick Relief of Sinusitis Caused by a Dental Infection
---
---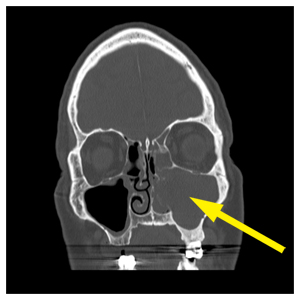 An accurate diagnosis and effective treatment dramatically improved the life of 75-year-old Ed Dickerson, whose off-and-on history of nasal congestion goes back to his childhood.
When Dickerson moved to Houston in 1990, his congestion became worse, but eventually he was able to control his symptoms with a prescription nasal steroid spray.  Then in the early summer of 2018, the man who had never had a headache began suffering severe pain originating in the left side of his face. When over-the-counter naproxen failed to help, he saw his primary care doctor, who referred him to Martin J. Citardi, MD, an internationally known rhinologist, who is professor and chair of the Department of Otorhinolaryngology-Head and Neck Surgery at McGovern Medical School at UTHealth.
"Mr. Dickerson had chronic rhinosinusitis, which we suspect started in his left maxillary sinus after a dental infection," Dr. Citardi says. "We confirmed the diagnosis through a detailed evaluation, including nasal endoscopy and CT scans. The decision to proceed with sinus surgery is a complex one that requires careful consideration of many factors. After reviewing his history and CT findings, we recommended surgery."
Dr. Citardi took Dickerson to the OR in late summer 2018 and performed left image-guided functional endoscopic sinus surgery, a procedure reserved for patients with rhinosinusitis that persists despite aggressive medical treatment.
"When I woke up from anesthesia, I breathed in the cool air in the recovery room," Dickerson recalls. "I hadn't gotten a breath of fresh air like that in 35 years. I had no pain and since the surgery, I've had no congestion. I'm also sleeping better than I ever have."
Noting Dickerson's dramatic recovery, Dr. Citardi says that it's impossible to determine exactly when the sinus infection began. "It is possible that the actual problem began many years ago, and then suddenly the infection grew worse last summer when he developed the pain."  According to Dr. Citardi, sinusitis arising from a dental infection – known as odontogenic sinusitis – is not common, but when it does happen, patients experience severe pain over the maxillary sinus, as well as symptoms of congestion, nasal obstruction, and purulent drainage. Initial treatment will be antibiotics, and when this does not solve the problem, surgery will be necessary. In addition, a dental evaluation is recommended.
"I was so impressed with the way everything went from start to finish," Dickerson says. "I had a dim view of going to the hospital, but I give my personal experience five stars. Dr. Citardi's concern, manner, professionalism, and knowledge are off the charts. He's a class act."
Schedule an Appointment
Call Us
To schedule an appointment over the phone, give our office a call at (713)-486-5019.
Online Appointment Requests
Patients may submit their appointment requests through our online Appointment Request Form.
Both current and new patients can request appointments through MyUTHealth, our patient portal.
---