UTHealth Otorhinolaryngology's Annual Head and Neck Cancer Screening Reaches from the Texas Medical Center to Houston's Suburbs
---
---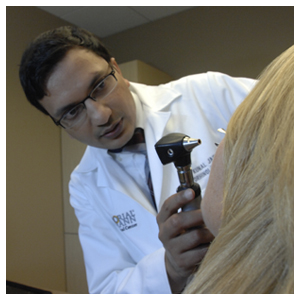 The Department of Otorhinolaryngology-Head and Neck Surgery at McGovern Medical School at UTHealth offered three free cancer screening clinics last April in observance of Oral, Head and Neck Cancer Awareness Week, sponsored by the Head and Neck Cancer Alliance.
"Oral, throat, head and neck cancers claim an estimated 12,000 lives each year and are on the rise," says Kunal Jain, MD, a fellowship-trained head and neck surgeon and an assistant professor in the department. "If diagnosed early, these cancers can be treated more easily without significant complications, and the chances of survival greatly increase."
Head and neck cancers account for approximately 4% of all cancers in the United States, according to the National Cancer Institute. Men are affected significantly more than women. Throat and oropharyngeal cancers caused by human papillomavirus (HPV) infection are on the rise in the U.S., while the incidence of oropharyngeal cancer related to other causes is falling. HPV-related throat, head and neck cancers are more difficult to detect because these cancers occur on the back of the tongue or on the tonsils, underscoring the importance of screening.
This year 126 people were screened at UT Physicians Otorhinolaryngology offices on the campuses of Memorial Hermann-Texas Medical Center, Memorial Hermann The Woodlands Medical Center and Memorial Hermann Southeast Hospital.
"We started the free screening nine years ago," says Ron Karni, MD, chief of the Division of Head and Neck Surgical Oncology and an associate professor who holds joint appointments in the Department of Otorhinolaryngology and the Division of Medical Oncology at McGovern Medical School. "The UT Physicians/Memorial Hermann Head and Neck Cancer Program comprises a large team of experts who are dedicated to head and neck cancer patients from diagnosis through survivorship. Community education and early detection are an important part of our mission."
Schedule an Appointment
Call Us
To schedule an appointment over the phone, give our office a call at (713)-486-5019.
Online Appointment Requests
Patients may submit their appointment requests through our online Appointment Request Form.
Both current and new patients can request appointments through MyUTHealth, our patient portal.
---