Dr. Alex Chiu Speaks at ORL Frontiers 2019
---
---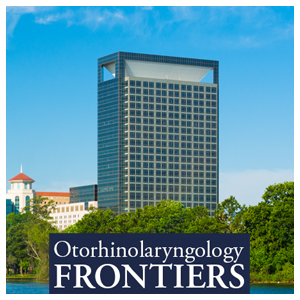 Alexander G. Chiu, MD, the Russell E. Bridwell, MD Endowed Chair and Professor in the Department of Otolaryngology, Head and Neck Surgery at the University of Kansas, was the guest of honor at ORL Frontiers 2019, held June 28, 2019 at the Brown Foundation Institute of Molecular Medicine for the Prevention of Human Diseases. The annual event highlights emerging technology in the diagnosis and management of common otolaryngologic clinical problems and the research productivity of members of the Department of Otorhinolaryngology-Head and Neck Surgery at McGovern Medical School at UTHealth. More than 70 physicians and other healthcare professionals attended the event, which was focused on rhinology.
"The event was very well-attended – one of our most popular ORL Frontiers presentations to date," says Amber U. Luong, MD, PhD, associate professor and research director in the Department of Otorhinolaryngology who also directs a laboratory at the Institute of Molecular Medicine. "Dr. Chiu delivered addresses on frontal sinus surgery for benign and inflammatory disease and on strategies to modernize an academic clinical department."
Before his appointment at the University of Kansas, Dr. Chiu, a rhinologist, was the founding chair of the Department of Otolaryngology-Head and Neck Surgery at the University of Arizona. He has held multiple leadership roles since beginning his career as a faculty member at the University of Pennsylvania. His academic and clinical focus is endoscopic and minimally invasive surgery of the nose, sinuses, and skull base, and he is actively involved in research on chronic rhinosinusitis, sinonasal tumors, and outcomes of sinus and skull base surgery.
This year's ORL Frontiers included panels, one focused on case presentations evaluating how much sinus surgery is indicated and another focused on how to maximize sinus surgery outcomes.  The following presentations were made at ORL Frontiers by the department's faculty and residents:
"The Opioid Crisis: Has Hydrocodone Rescheduling Changed Our Practices?" by Kevin Caceres, MD
"Endoscopic Orbital Surgery" by William C. Yao, MD
"Depression and Chronic Rhinosinusitis: The Relationship Between PHQ9 and SNOT 22" by Laura Vandelaar, MD
"Revisiting the Role of Fungi in Chronic Rhinosinusitis Pathophysiology" by Amber U. Luong, MD, PhD
Schedule an Appointment
Call Us
To schedule an appointment over the phone, give our office a call at (713)-486-5019.
Online Appointment Requests
Patients may submit their appointment requests through our online Appointment Request Form.
Both current and new patients can request appointments through MyUTHealth, our patient portal.
---