Esther's Heroes: A Story of Hope and Cancer Survivorship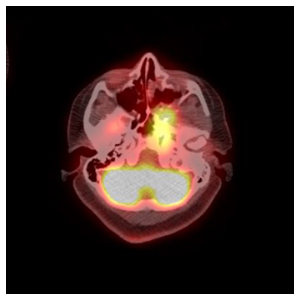 After chemotherapy and radiation therapy for nasopharyngeal cancer, Esther Urdiales had an unusually complicated recovery of her ability to swallow.
"Esther's story is one of victory through our collaboration with TIRR Memorial Hermann's Speech Therapy Program," says Ron Karni, MD, chief of the Division of Head and Neck Surgical Oncology in the Department of Otorhinolaryngology at McGovern Medical School at UTHealth. "Many patients have trouble swallowing after radiation therapy. For that reason we've embedded a speech-language pathologist in our Head and Neck Cancer Survivorship Clinic. These therapists work with their colleagues in TIRR Outpatient Rehabilitation Clinics across Houston, all of whom are held to the same standard of excellence. Our relationship with TIRR allows our cancer patients who experience problems with swallowing to connect with expert therapists near their homes."
Urdiales first noticed symptoms in February 2017, when she developed a lump in her neck after the extraction of a tooth. An emergency physician referred her to Dr. Karni, an associate professor who holds joint appointments in the Department of Otorhinolaryngology-Head and Neck Surgery and the Division of Medical Oncology at McGovern Medical School. A biopsy revealed nasopharyngeal cancer, and Dr. Karni referred her to colleagues for radiation and chemotherapy. By the time she completed her three-month course of combined treatment, she was using a percutaneous endoscopic gastrostomy (PEG) tube for nutrition. When Dr. Karni saw her in follow-up, he asked her if she was eating.
"We expect problems after radiation therapy, but most patients can swallow normally one to two months later," he says. "She was three or four months post-treatment and stalled in her recovery. Our speech-language pathologist led the effort to find the problem, and she hit a home run."
When Heather Smith, MA, CCC-SLP, met Urdiales at the survivorship clinic, her patient was extremely depressed. "Esther was at a very low point, devastated by her inability to eat or swallow liquids," says Smith, who is now clinical coordinator at TIRR Memorial Hermann The Woodlands Medical Center Outpatient Rehabilitation Clinic. "She's in her early 50s and wanted to be able to enjoy meals with her family. She'd been trying to get off her PEG tube with no success. She was deathly afraid of swallowing anything except the tiniest bit of water. I held her hand and told her that no matter how long it took, we would resolve the problem."
It took Smith several weeks to gain Urdiales' trust and schedule a swallow study. "Her biggest barrier was fear," Smith says. "While we worked to overcome that, we did traditional swallow therapy and hands-on myofascial release."
By June 2018, Urdiales had worked up the courage to undergo a modified barium swallow (MBS) exam. The exam appeared normal, but based on her knowledge of her patient and the risk of esophageal strictures due to late-stage radiation fibrosis, Smith knew something wasn't right. She studied the video fluoroscopy results over and over again, and her persistence paid off. When she found an esophageal stricture in the upper esophagus, she referred Urdiales to gastroenterologist Atilla Ertan, MD, FACP, MAGC, AGAF, director of the Ertan Digestive Disease Center at Memorial Hermann-Texas Medical Center and professor of internal medicine in the Division of Gastroenterology, Hepatology and Nutrition at McGovern Medical School. Dr. Ertan performed an esophagogastroduodenoscopy and dilated the esophagus. In three visits, he was able to open the stricture.
"Dealing with problems with swallowing requires a good eye, which Heather has," Dr. Karni says. "I was impressed with her ability to figure out what was causing Esther's problem. Swallow is a complex field, and we're pleased to have TIRR Memorial Hermann therapists working with us. Had Heather not rolled up her sleeves and kept at it, Esther would still be on a feeding tube."
Urdiales had all but given up. "I thought I'd never eat again," she says. "Everything seemed so hopeless. I consider Heather and Dr. Karni my heroes, because first they gave me hope, and then they gave me back the ability to swallow."
She came to her appointment with Smith after her first visit with Dr. Ertan. "Esther walked in with the biggest smile, carrying a bottle of water," Smith says. "She was getting ready to go on a trip to visit her family in California. She was still afraid to eat, so we trialed various foods to prepare her for the trip. She was totally surprised that she could swallow."
Smith is using her experience with Urdiales as a case study to teach the therapists she oversees the right way to do an MBS and how to examine and listen to patients. "I adore Esther. She's tenacious, driven, motivated, and has a special spirit about her," she says. "Even when she was at her lowest she wouldn't give up. She knew something was wrong and stuck to her convictions. She was desperate for help, and I'm happy we could give it to her."