Dr. Martin J. Citardi Serves as Faculty at SARC in Singapore
---
---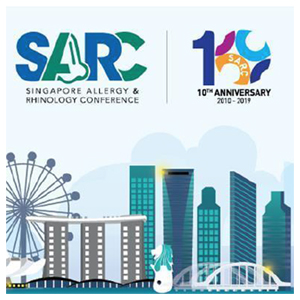 Martin J. Citardi, MD, professor and chair of the Department of Otorhinolaryngology-Head and Neck Surgery at McGovern Medical School at UTHealth and chief of otorhinolaryngology at Memorial Hermann-Texas Medical Center, was an invited faculty member at the 10th Singapore Allergy and Rhinology Course (SARC), sponsored by the Singapore Society of Otolaryngology-Head and Neck Surgery and the Singapore Medical Association. The meeting was held April 26-28, 2019, in Singapore, and included the 6th SARC FESS Workshop and 1st SARC Sleep Workshop.
Dr. Citardi served as moderator, prosector and lecturer, delivering presentations on "Allergic Fungal Rhinosinusitis," "Surgical Navigation: 2019 Update," "Integrated Approach to Frontal Sinus Surgery," "Office Rhinology Procedures," and "Maximizing Treatment Outcomes of Allergic Rhinitis in the GP Setting."
"It was a great honor to participate as a faculty member at one of the world's eminent ENT courses. SARC has become an important forum for sharing clinical experiences with a large international audience of physicians from many countries," Dr. Citardi observed.
More than 420 people from 41 countries attended the four-day conference focused on learning and exchange, with opportunities to meet new colleagues and connect with friends.
Fifty-seven SARC Workshop faculty members were invited from Australia, China, Germany, India, Indonesia, Italy, Malaysia, Myanmar, the Philippines, Spain, Thailand, Taiwan, the United States, Vietnam, and Singapore.
Schedule an Appointment
Call Us
To schedule an appointment over the phone, give our office a call at (713)-486-5019.
Online Appointment Requests
Patients may submit their appointment requests through our online Appointment Request Form.
Both current and new patients can request appointments through MyUTHealth, our patient portal.
---