UTHealth Otorhinolaryngology and Gastroenterology Collaborate to Open an Esophagus Closed by Cancer
---
---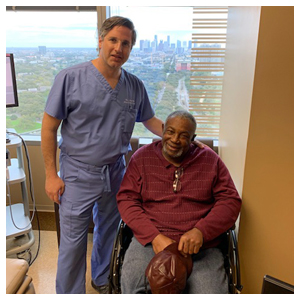 In a surgical procedure performed at Memorial Hermann-Texas Medical Center, otorhinolaryngologist Ron Karni, MD, and gastroenterologist Nirav Thosani, MD, opened a complete esophageal stenosis for patient Bennie Richardson. The two physicians are known for their skill and for helping patients make informed decisions about care through education.
Richardson, who lives in Port Arthur, Texas, a seaport located 90 miles from Houston, had been unable to swallow for more than a year following chemotherapy and radiation for cancer of the nasopharynx. After treatment at a local cancer center, he suffered a rare but devastating complication: complete closure of the esophagus.
"My esophagus was a dead end," Richardson says. "I couldn't swallow anything for a year and a half, including my own saliva. It was a miserable existence."
In the summer of 2018, his local ENT referred him to Dr. Karni, chief of the Division of Head and Neck Surgical Oncology at Memorial Hermann-TMC and an associate professor who holds joint appointments in the Department of Otorhinolaryngology-Head and Neck Surgery and the Division of Medical Oncology at McGovern Medical School at UTHealth. In a collaborative surgery, Dr. Karni and Dr. Thosani, an assistant professor in the Department of Internal Medicine, were able to connect his stomach to his esophagus and throat by working from below, through the feeding tube site, and from above, through the mouth. They refer to the surgery as a "rendezvous procedure."
"Our team passed an endoscope from above, and Dr. Thosani's team passed one from below, which allowed us to transilluminate the stenotic segment of the esophagus," Dr. Karni says. "We later took Mr. Richardson back to the OR to increase the size of the dilation. Within a couple of months, we had created a larger opening, and he was able to eat again."
"This was a complex, high-reward operation," he adds. "We were happy to help Mr. Richardson regain his ability to swallow."
Richardson had been getting nutrition through a PEG tube for more than a year. "Now I can enjoy a cup of coffee and eat without the feeding tube," he says. "It's been a slow process but I had faith. Dr. Karni is a great doctor – easy to talk to and he also listens. I love him for that, and for the good job he did. He gave me a lot of confidence before the surgery. He told me everything would be all right, and it has been."
Schedule an Appointment
Call Us
To schedule an appointment over the phone, give our office a call at (713)-486-5019.
Online Appointment Requests
Patients may submit their appointment requests through our online Appointment Request Form.
Both current and new patients can request appointments through MyUTHealth, our patient portal.
---