Dr. Amber Luong Invited as Keynote Speaker to the Australian Society of Otolaryngology Head and Neck Surgery
---
---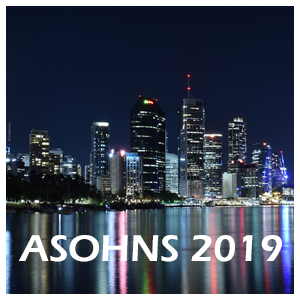 Amber Luong, MD, PhD, associate professor and research director in the Department of Otorhinolaryngology-Head and Neck Surgery at McGovern Medical School at UTHealth, was an invited keynote speaker at the 2019 Australian Society of Otolaryngology Head and Neck Surgery (ASOHNS) 69th Annual Scientific Meeting. The meeting was held in Brisbane, Queensland, Australia, in March.
Dr. Luong, who holds a joint appointment at the Center of Immunology and Autoimmune Diseases at the Brown Foundation Institute of Molecular Medicine for the Prevention of Human Diseases (IMM), gave three presentations: "Revisiting Fungi in Chronic Rhinosinusitis," "Update on Understanding the Pathophysiology of Chronic Rhinosinusitis," and "Maximizing Sinus Surgery Outcomes with Postoperative Management."
About 1,500 attendees at the ASOHNS meeting had the opportunity to participate in a variety of educational sessions dedicated to the latest specialized information for today's otolaryngologists. Each annual scientific meeting builds on the strength of the previous meeting and showcases the capacity and rigor of the specialty in Australia.
"I was honored to be invited as a keynote speaker," Dr. Luong says. "Given the geographic separation between Texas and Queensland, it was an great opportunity to appreciate the commonalities and differences in how chronic rhinosinusitis presents and is treated in both countries."
A fellowship-trained sinus surgeon, Dr. Luong received her MD/PhD through the National Institutes of Health Medical Scientist Training Program and directs a laboratory at the IMM. In addition to her basic science research, she is actively engaged in a number of industry-funded translational studies that directly stem from her interest in innovation in the medical and surgical management of chronic sinus disease.
Schedule an Appointment
Call Us
To schedule an appointment over the phone, give our office a call at (713)-486-5019.
Online Appointment Requests
Patients may submit their appointment requests through our online Appointment Request Form.
Both current and new patients can request appointments through MyUTHealth, our patient portal.
---