New Nonsurgical Treatments for Nasal Polyps Help Patients Breathe Again
---
---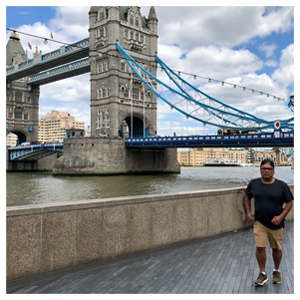 Internationally recognized rhinologist Martin J. Citardi, MD, professor and chair of the Department of Otorhinolaryngology-Head and Neck Surgery at McGovern Medical School, does his utmost to help patients with nasal polyps avoid sinus surgery. That commitment has led him to explore innovative topical treatments, steroid delivery devices, and a new class of polyp treatments called biologics, many of which are currently under clinical investigation for this condition. It also led to the self-referral of Imran Toufeeq, who had undergone surgery for chronic rhinosinusitis with nasal polyps in 2011.
"When my condition worsened, I did my homework on alternatives to surgery for polyps," Toufeeq says. "My first endoscopic sinus surgery was not an ordeal, and I was home in two hours flat. Still, surgery is surgery and why go through it if you can find something else that works?"
In researching nonsurgical options online, Toufeeq found that Dr. Citardi's name kept popping up. "When I read his credentials, I thought, 'That's the doctor I want to see.'"
After examining Toufeeq and reviewing his findings, Dr. Citardi recommended trying a newly introduced steroid delivery system. Called an "exhalation delivery system," it delivers the steroid deeper into the sinuses.
"Treatment for nasal polyps starts with medications directed at reducing inflammation. While topical nasal steroid sprays reduce polyp size, standard nasal sprays provide treatment mostly to the nasal cavity at the front of the nose instead of deeper in the sinuses where the polyps are," says Dr. Citardi. "As a result, this treatment may not be effective. The exhalation delivery system includes a nosepiece patients put in their nostril and a flexible mouthpiece. As they blow into the mouthpiece, the exhalation pushes the steroid high and deep into the nasal passages, where polyps occur."
Toufeeq, who uses the device once in the morning and once in the evening, has been symptom-free for more than a year. "I used to suffer a sinus infection every two months," he says. "If you have sinusitis, it just goes on and on. Your nose runs, you can't get a good night's sleep, you wake up with a dry mouth. I'm happy with my progress to date and also that I've been able to avoid a second surgery. I hope others will benefit from a nonsurgical option as I have."
Dr. Citardi adds, "Mr. Toufeeq has done very well with exhalation delivery of steroids. We are now fortunate to have other alternatives to standard endoscopic sinus surgery for patients who are reluctant to undergo surgery. For this reason, we can be more selective in choosing what works best for each patient."
For more information on topical treatments, steroid delivery devices, and biologics, visit www.utphysicians.com/new-treatments-for-nasal-polyps.
Schedule an Appointment
Call Us
To schedule an appointment over the phone, give our office a call at (713)-486-5019.
Online Appointment Requests
Patients may submit their appointment requests through our online Appointment Request Form.
Both current and new patients can request appointments through MyUTHealth, our patient portal.
---