Operating Room Collaboration Between Otorhinolaryngology and Anesthesiology
---
---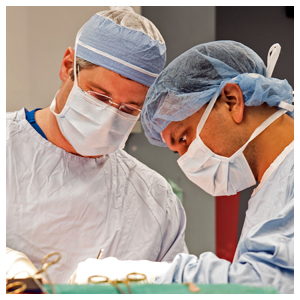 Outstanding outcomes in otorhinolaryngology surgery are the result of close collaboration between the anesthesiologists and surgeons who operate together in a very small, shared space. At McGovern Medical School at UTHealth, otorhinolaryngologists work with a team of anesthesiologists who specialize in head and neck surgery. Together they perform complex airway reconstruction, head and neck cancer resections, free-flap reconstruction, and transoral robotic surgeries of the oropharynx.
"Head and neck surgery is complex, especially in patients scarred by trauma or previous surgery," says Ron Karni, MD, chief of the Division of Head and Neck Surgical Oncology in the Department of Otorhinolaryngology-Head and Neck Surgery (ORL) at McGovern Medical School at UTHealth. "We're fortunate to be able to work daily with the same team of highly proficient anesthesiologists in operating rooms dedicated to our patients. Teamwork, good interpersonal communications, and strong leadership are essential to patient safety and improved outcomes."
The ORL anesthesia team is led by Davide Cattano, MD, PhD, FASA, CMQ, professor of anesthesiology and medical director of the Perioperative Anesthesia Clinic at McGovern Medical School and anesthesia service chief for head and neck surgery at Memorial Hermann-Texas Medical Center. Dr. Cattano was chief resident in anesthesiology, pain, and intensive care in Italy at the University of Pisa Medical School, an international center of excellence for thyroid surgery and airway management. As a recognized expert in the prediction of difficult airways, he is a founding member of the Society for Head and Neck Anesthesia and the organization's current treasurer.  "My department chair, who was also my mentor during residency, was very much involved in pioneering research and clinical management of difficult airway cases," Dr. Cattano says. "Very early in my training I had the opportunity to assist in the care of patients with complicated airway disease and head and neck tumors."
After practicing medicine in Italy and England, Dr. Cattano was a visiting professor at Washington University School of Medicine in St. Louis, Missouri, where he met Dr. Karni as a senior ORL resident. Their paths crossed unexpectedly in Houston, when Dr. Karni was considering a faculty position at McGovern Medical School.
"We've developed a deep and respectful professionalism and friendship at the same time," says Dr. Cattano, who was appointed as an adjunct professor of otorhinolaryngology in 2018. "A successful collaboration begins long before a patient's surgery, and continues at least 30 days after discharge as we track outcomes. We discuss each case to determine the best strategy, and no one is afraid to speak up with questions, concerns, doubts, or precedents. Our goal is safe, quality care with good outcomes. An anesthesia team dedicated to otorhinolaryngology should be the norm for head and neck surgery, but dedicated teams require greater staffing coverage and special arrangements in rotations, which isn't possible for most hospitals. We've created a very good collaboration, and we continue to work together on resident education, scholarship, and research, as well as the clinical management of complex cases."
Schedule an Appointment
Call Us
To schedule an appointment over the phone, give our office a call at (713)-486-5019.
Online Appointment Requests
Patients may submit their appointment requests through our online Appointment Request Form.
Both current and new patients can request appointments through MyUTHealth, our patient portal.
---