ORL Residents Named Best Emergency Consultants
---
---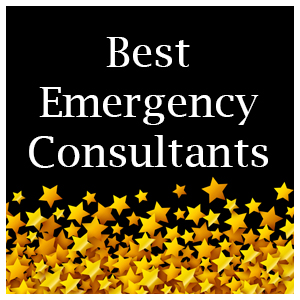 Residents in the Department of Emergency Medicine at McGovern Medical School at UTHealth named their otorhinolaryngology counterparts the "Best Emergency Consultants" for 2019. The award, instituted this year by graduating emergency medicine residents, recognizes the ER consultants "who are most consistently professional, provide excellent patient care, and contribute to the education and development of our residents."
Patients in need of emergency care are treated at the Red Duke Trauma Institute at Memorial Hermann-Texas Medical Center, one of the busiest Level 1 trauma centers in the country. Physicians at the 200-bed trauma center see an average of 5,800 adult and 1,200 pediatric trauma cases each year. The trauma center has one of the lowest mortality indexes in the United States.
Under the guidance of attending physicians, emergency medicine residents call in specialty teams when they need assistance on complex cases. Otorhinolaryngology residents consult on conditions of the head and neck including facial trauma, neck infections, ear injuries, upper airway distress, and throat issues, as well as many other urgent ENT problems.
"Residents have a dual role in health care as teachers of patients and their colleagues and as learners. This award recognizes the hard work and professionalism of our otorhinolaryngology residents and their skill at working with residents from other disciplines," says Ronda Alexander, MD, director of residency training in the Department of Otorhinolaryngology-Head and Neck Surgery at McGovern Medical School. "They deliver care on demand 24 hours a day, which means middle-of-the-night consultations on cases that may not sound serious when they get the phone call but turn out to be very serious when they're with the patient. It's a tribute to our residents' reliability and their contributions to the professional development of UTHealth's emergency medicine residents."
Schedule an Appointment
Call Us
To schedule an appointment over the phone, give our office a call at (713)-486-5019.
Online Appointment Requests
Patients may submit their appointment requests through our online Appointment Request Form.
Both current and new patients can request appointments through MyUTHealth, our patient portal.
---