The Link Between Chronic Rhinosinusitis and Depression
---
---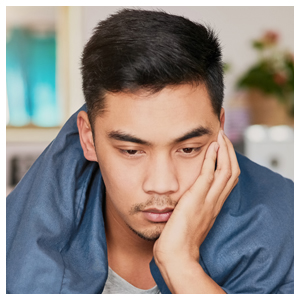 Katherine Davis* is not sure which came first: her sinus infections or the depression. "It's a tangled thing beginning in childhood and continuing through my life," she says.  She had her first sinus infection before she was 10, followed by two to five infections each year of her life. "As I've gotten older and more aware of myself and my habits, I pay attention to the connection between depression and illness. A sinus infection can send me into a downward spiral for months," she says.
Davis, 38, has taken antibiotics most of her life. Infections strike quickly, without warning. "I'd feel absolutely fine and then would be hit with a wave of tiredness," she says. "Eight to 12 hours later I'd have a 103-degree fever with infection. Life would be hellish for two weeks, then yuck for two more weeks. That slog of steadily occurring month-long infections is very hard to live with."  She orchestrated her life around the ability to drop out when she needed to, telecommuting from home. "The disease has really truncated my future and goals," she says. "I feel a lot of resentment toward my sinus cavities."
In 2014, she saw Amber Luong, MD, PhD, for the first time. "Mrs. Davis couldn't breathe well, so we did a turbinate reduction and corrected her deviated septum," says Dr. Luong, an associate professor and director of research in the Department of Otorhinolaryngology-Head and Neck Surgery at McGovern Medical School at UTHealth. She holds a joint appointment at the Center of Immunology and Autoimmune Diseases at the Brown Foundation Institute of Molecular Medicine for the Prevention of Human Diseases at the medical school.
After her surgery, Davis was infection-free for a year, a new experience, and she was elated. But by 2016 she was back to two or three episodes annually. Although they were much less severe than before the surgery, they were accompanied by pressure between the eyes and extreme headaches that interfered with sleep. Dr. Luong performed an in-office balloon sinuplasty, which improved her quality of life. She was infection-free for almost a year.
"Over the years doctors would tell me my symptoms didn't track with what they were seeing on CT scan," she says. "It was frustrating that they couldn't offer me surgery based on my word that I was suffering. I'd have an infection and was so inflamed that going outside felt like torture. By the time I was able to get an appointment for a scan or be seen by the doctor, it was gone."
Finally in early 2019, Davis saw Dr. Luong with an active infection. "Her story illustrates how difficult it is to treat acute recurrent sinusitis. When patients come in between episodes, we can't find objective symptoms. But it's a good reminder to listen to patients without discrediting them," Dr. Luong says. "Mrs. Davis felt her depression was worsening due to her rhinosinusitis, and she was starting to believe that everyone thought she was crazy. She was grateful we could help."
Dr. Luong performed an ethmoidectomy in February 2019. "I've been great since then," Davis says. "I'm off medications except for an over-the-counter nasal spray a couple of times a day. At my 10-day follow-up I told Dr. Luong that I felt like she'd removed the black dog of depression."
Before the ethmoidectomy, Davis had been sick for three months. "It was not the usual quick-onset, month-long infection. This time I was feeling low-grade awful for three months. After the surgery, I was able to enjoy spring in Houston without a sinus infection for the first time. I appreciate that Dr. Luong was conservative in her treatment each time I saw her and has been instrumental in lessening the infections. I'm very hopeful for the future and at the same time curious to see what will happen a year from now."
Studies have demonstrated a relationship between chronic rhinosinusitis and depression, but the underlying pathology is unclear. In a paper presented at the American Rhinologic Society 2019 spring meeting, researchers from the Department of Otorhinolaryngology-Head and Neck Surgery assessed the prevalence of depression in a rhinology practice by comparing results of the Patient Health Questionnaire-9, a depression screening tool, to the 22-item Sinonasal Outcome Test used to screen for sinonasal symptoms.
Learn more about the importance of depression screening in rhinology practice.
* The patient's name has been changed to protect her privacy.
Schedule an Appointment
Call Us
To schedule an appointment over the phone, give our office a call at (713)-486-5019.
Online Appointment Requests
Patients may submit their appointment requests through our online Appointment Request Form.
Both current and new patients can request appointments through MyUTHealth, our patient portal.
---