Amber Luong, MD, PhD Named Among Castle Connolly Top Doctors for 2020
---
---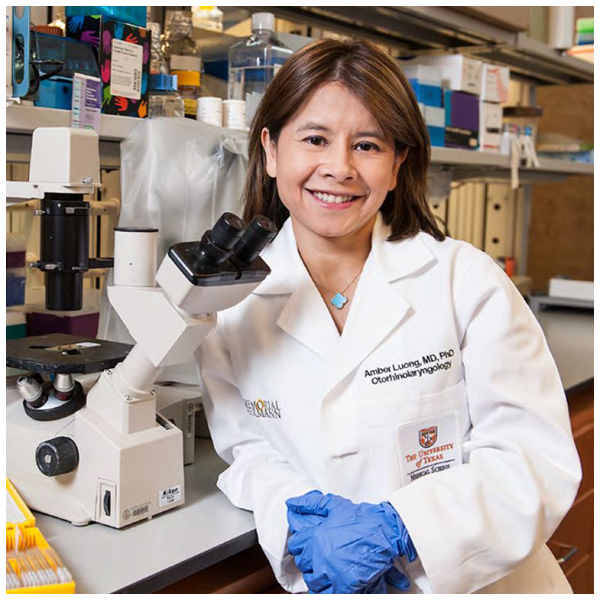 Amber Luong, MD, PhD, a practicing rhinologist and research director in the Department of Otorhinolaryngology-Head and Neck Surgery at McGovern Medical School at UTHealth, has been named a Castle Connolly Top Doctor for 2020. She has earned the distinction six times and was named to Castle Connolly's Exceptional Women in Medicine in 2018.
"It's always a great honor to be recognized by your colleagues," says Dr. Luong, an associate professor of otorhinolaryngology-head and neck surgery.
Dr. Luong joined the department in 2009. In less than a decade she built a translational otorhinolaryngology research program from the ground up. "We gave her a very big task, starting from literally nothing," says Martin J. Citardi, MD, professor and chair of the Department of Otorhinolaryngology-Head and Neck Surgery at McGovern Medical School. "Today our program includes basic science, translational science, and clinical trials. Dr. Luong is a busy clinician with a tertiary academic practice and she also participates actively in teaching our residents and fellows."
The department's translational science program is focused on the role of innate immunity and environmental triggers on the pathophysiology of chronic sinus disease. Dr. Luong is actively engaged in several industry-funded translational studies that directly stem from her interest in the relationship of chronic inflammation between the sinuses and lungs and in the role of innovation in management of chronic sinus disease. Both her basic science and translational research complement her clinical interest in the medical and surgical management of chronic sinus disease. Dr. Luong has received numerous awards, including the Women in Otolaryngology Helen F. Krause, MD, Memorial Trailblazer Award; the American Rhinologic Society Presidential Citation; and the Triological Society's Edmund Prince Fowler Award.
She was accepted to the 2019-2020 Hedwig van Ameringen Executive Leadership in Academic Medicine® (ELAM) program, a yearlong, part-time fellowship for women faculty in schools of medicine, dentistry, public health, and pharmacy. The program is dedicated to developing the professional and personal skills required to lead and manage in today's complex health care environment, with special attention to the challenges facing women in leadership positions.
Castle Connolly Medical Ltd. is a health care research and information company that, among other services, produces lists of Top Doctors. The organization has been rating physicians since 1991. Castle Connolly's established survey research process, directed by a physician, involves tens of thousands of top doctors in America and the medical leadership of leading hospitals.
Schedule an Appointment
Call Us
To schedule an appointment over the phone, give our office a call at (713)-486-5019.
Online Appointment Requests
Patients may submit their appointment requests through our online Appointment Request Form.
Both current and new patients can request appointments through MyUTHealth, our patient portal.
---