Hyperparathyroidism in a Father and Daughter Linked to a Genetic Syndrome
---
---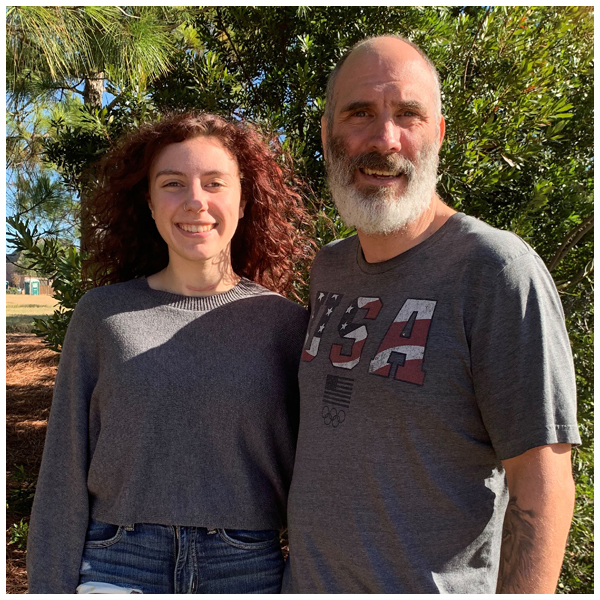 Hyperparathyroidism occurs in people in every age group but is most common in patients in their 50s, 60s, and 70s. When father and daughter Chris and Macayla Potter were both diagnosed with hypercalcemia, otorhinolaryngologist Ron Karni, MD, suspected a genetic parathyroid syndrome.
"Chris is 45 and Macayla is 15, quite young to present with very high levels of blood calcium," says Dr. Karni, chief of the Division of Head and Neck Surgical Oncology at McGovern Medical School at UTHealth. Dr. Karni is an associate professor who holds joint appointments in the Department of Otorhinolaryngology-Head and Neck Surgery and the Division of Oncology at McGovern Medical School. "Like many people with high calcium levels, they had a little bit of this and that – problems that can range from anxiety, to general aches and pains with no obvious cause, to recurrent kidney stones. Very high levels of calcium in the blood can become life- threatening."
When Chris Potter developed severe headaches, his family doctor recommended a workup. About the same time, Macayla had routine blood work done. Her blood calcium was higher than her father's.
"Most cases of hyperparathyroidism are caused by one overactive parathyroid gland secreting too much parathyroid hormone, but when you see a familial connection you begin to think of multiple endocrine neoplasia (MEN)," Dr. Karni says. "We always work closely with the endocrinology team at UTHealth to confirm our suspicions. Genetic testing revealed that the Potters had a variant of MEN 1 syndrome. These syndromes cause overactivity and enlargement in certain endocrine glands and are usually – but not always – inherited conditions."
With MEN syndromes, all four parathyroid glands can become overactive. Parathyroid anatomy is highly variable; the challenge is to locate the glands reliably before surgery.  "Thanks to state-of-the-art imaging technology, including four-dimensional parathyroid CT and surgeon-performed ultrasound in the office and OR, we localize the glands with near-100% accuracy before we open in surgery," Dr. Karni says. "This allows for a quick procedure through small incisions."
Dr. Karni operated on both father and daughter on the same day. "They were almost identical in anatomy and in how the procedures went," he says. "We found three overactive parathyroids in both and left one behind. We saw a large drop in parathyroid hormone and lowered calcium in the OR, and there was no damage to surrounding tissue."
"We were really impressed with the entire process," Chris Potter says. "When my ENT referred us to Dr. Karni, he saw us the next day. We both recovered quickly. I stayed overnight while they checked my calcium levels, and Macayla stayed a few days more because her calcium levels dropped below normal."
"I was put on a drip to boost them," she says. "My remaining parathyroid was dormant, and we needed to wake it up so it could do its job."
Research has shown that centers that perform high volumes of intricate neck and throat surgeries produce better outcomes. Surgeons in the Department of Otorhinolaryngology-Head and Neck Surgery have performed more than 2,500 thyroid and parathyroid surgeries since 2009, ranking them among the top high-volume centers in the country. The surgeries were performed at Memorial Hermann-Texas Medical Center.
"Good outcomes require surgical skill, advanced equipment, and a high level of pre-surgical and OR team efficiency. We've put all of that together in a package to improve the experience of our patients," Dr. Karni says. "Our advice to patients is always to choose a high-volume parathyroid surgeon, one who does more than 40 procedures a year."
Schedule an Appointment
Call Us
To schedule an appointment over the phone, give our office a call at (713)-486-5019.
Online Appointment Requests
Patients may submit their appointment requests through our online Appointment Request Form.
Both current and new patients can request appointments through MyUTHealth, our patient portal.
---