A Clinical Trial of a Nonsurgical Treatment for Chronic Sinusitis is Enrolling at UTHealth
---
---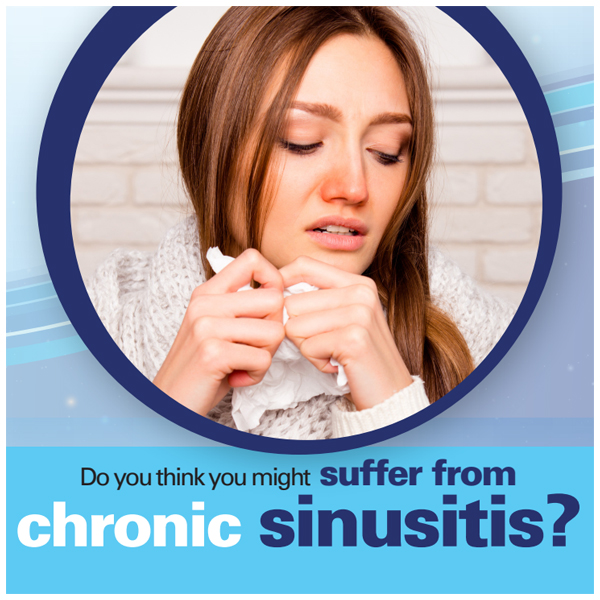 The Department of Otorhinolaryngology-Head and Neck Surgery at McGovern Medical School at UTHealth is investigating the efficacy and safety of an intranasal treatment for adults with chronic sinusitis with or without nasal polyps. The treatment is XHANCE®, which has been approved by the U.S. Food and Drug Administration for the treatment of nasal polyps in adults and used with success by rhinologists in the department. In the new study, they hope to find benefit for patients with chronic rhinosinusitis in addition to the current indication for nasal polyposis.
XHANCE is a liquid fluticasone propionate spray that uses an exhalation delivery system with a nosepiece patients place in their nostril and a flexible mouthpiece. As they blow into the mouthpiece, the soft palate closes and exhalation pushes the steroid high and deep into the sinuses.
"XHANCE has potential as a treatment for chronic sinusitis possibly as an alternative to surgery," says William C. Yao, MD, assistant professor, and co-director of the UTHealth Rhinology and Skull Base Fellowship and associate director of the Otorhinolaryngology Residency Program. "Many people who suffer from chronic rhinosinusitis get little relief from traditional topical nasal steroids, and even after surgery, symptoms of chronic rhinosinusitis may return without continued topical medical therapy. New treatments like XHANCE allow us to be more selective in choosing what works best for each patient, and offer patients an alternate medical therapy."
Study participants are randomized to use a twice-daily active medication or placebo for a period of 24 weeks. The study involves six visits to McGovern Medical School over a period of about 26 weeks. Neither the study participants nor the physician will know which participants receive the placebo.
To be eligible, patients must be age 18 or older and have had at least two of these symptoms for a minimum of 12 weeks: congestion, nasal discharge, facial pain and pressure in the sinus region, and loss or reduction in the sense of smell. All medical examinations, study visits, and treatment required by the study are provided to qualified participants at no cost. Compensation will also be available for time and travel expenses incurred during participation in the study.
To provide a safe study experience during COVID-19, all staff members and participants are screened at the door with temperature checks and a standard set of questions based on evolving knowledge of symptoms, prevalence, and local data. Face masks, which help prevent aerosol transmission, are required.
For more information about the trial, entitled "Study Evaluating the Efficacy and Safety of Intranasal Administration of OPN-375 in Subjects with Chronic Sinusitis with or without the Presence of Nasal Polyps (ReOpen-1)," visit ClinicalTrials.gov.
Interested patients should contact the Department of Otorhinolaryngology  for a medical evaluation to assess if they are candidates for the research protocol.
Schedule an Appointment
Call Us
To schedule an appointment over the phone, give our office a call at (713)-486-5019.
Online Appointment Requests
Patients may submit their appointment requests through our online Appointment Request Form.
Both current and new patients can request appointments through MyUTHealth, our patient portal.
---