Dr. Amber Luong Promoted to Professor
---
---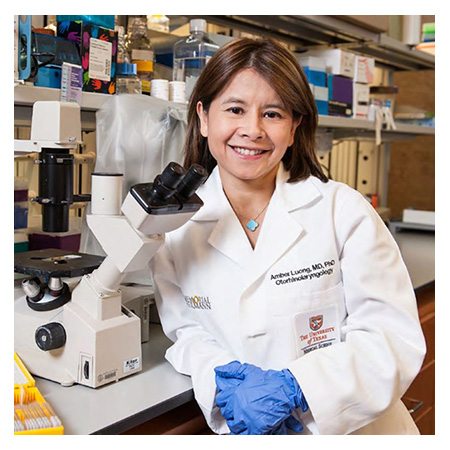 Amber U. Luong, MD, PhD, vice chair for research, has been promoted to full professor with tenure in the Department of Otorhinolaryngology-Head and Neck Surgery at McGovern Medical School at UTHealth.
Dr. Luong joined the department in 2009 and in less than a decade built a translational otorhinolaryngology research program from the ground up. "Dr. Luong was hired to establish our translational science program," says Martin J. Citardi, MD, professor and chair of the Department of Otorhinolaryngology at McGovern Medical School and chief of otorhinolaryngology at Memorial Hermann-Texas Medical Center. "In short order, Dr. Luong established both a clinical rhinology practice as well as a translational science program that encompasses basic science, translational science, and clinical trials. She is a busy clinician with a tertiary academic practice, participates actively in teaching our residents and fellows, and continues to seek research grants."
The department's translational science program is focused on the role of innate immunity and environmental triggers on the pathophysiology of chronic sinus disease. Dr. Luong is actively engaged in several industry-funded translational studies that directly stem from her interest in the relationship of chronic inflammation between the sinuses and lungs and in the role of innovation in management of chronic sinus disease. Both her basic science and translational research complement her clinical interest in the medical and surgical management of chronic sinus disease.
Dr. Luong has received numerous awards, including the Women in Otolaryngology Helen F. Krause, MD Trailblazer Award; the 2017 Women Faculty Forum Excellence Award; the American Rhinologic Society Presidential Award; and the Triological Society's Edmund Prince Fowler Award. She is a founding member of McGovern Medical School's Women Faculty Forum and has been actively involved in promoting opportunities for professional development for women at the medical school.
To advance to the rank of tenured professor, a physician must do significant work in research, teaching, and community service. "I'm proud to be among the women in medicine who have reached the level of professor," she says. "It feels good because it highlights the support of my professional community locally and nationally. A successful promotion process requires written endorsement from professional colleagues outside of one's academic institution. For me to advance from assistant professor to full professor at one institution is also a testament to our leadership. Dr. Citardi was tasked with creating a nationally renowned department basically from scratch. Research is a critical component that differentiates departments. His ability to quickly establish the clinical foundation to support the research endeavor demonstrates his dedication to this goal and his leadership."
Schedule an Appointment
Call Us
To schedule an appointment over the phone, give our office a call at (713)-486-5019.
Online Appointment Requests
Patients may submit their appointment requests through our online Appointment Request Form.
Both current and new patients can request appointments through MyUTHealth, our patient portal.
---