ORL Staff Member Laurie Carraway Named Houston Dynamo Hero of the Match
---
---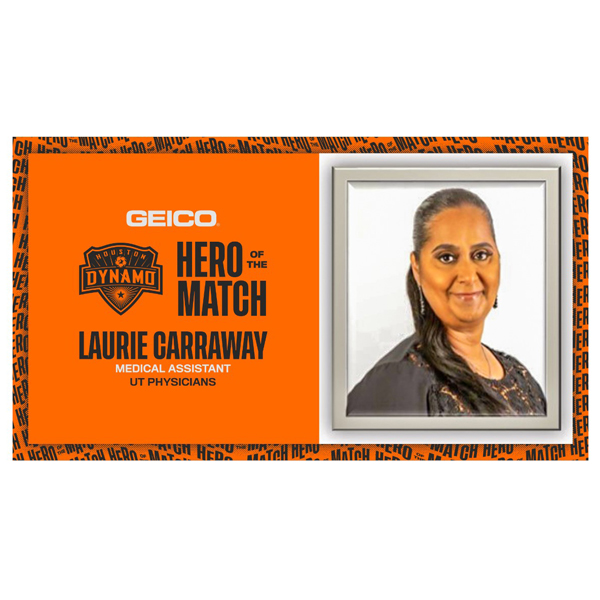 Not even a hurricane could stop Laurie Carraway, a medical assistant at UT Physicians Otorhinolaryngology-Texas Medical Center who works on the clinic's early-start crew. Carraway was the first MA to arrive at the clinic during Hurricane Laura, a Category 4 hurricane that made landfall in Louisiana in late August 2020, dumping heavy rain on flood-prone southeast Texas.
"I called an Uber and the driver brought me in. When I arrived, I was the only one of my coworkers there, and the physicians were running the clinic themselves. I'm the early-morning person, the one who opens the rooms and turns on the equipment so when patients start coming in at 7:30 a.m., we can hit the ground running. Needless to say, the doctors were very happy to see me," she says.
Carraway worked with the Department of Otorhinolaryngology-Head and Neck Surgery at McGovern Medical School at UTHealth from 2006 to 2015 and was recruited back in 2018 as the medical assistant to Martin J. Citardi, MD, professor and chair of the department. "I've watched Dr. Citardi rebuild the department and add new faculty," she says. "Working side by side with him has been a learning experience. I love being at the forefront of technology, new techniques, and new knowledge gained through research."
UT Physicians is the official health care provider for the Houston Dynamo, a Major League Soccer team and member of the Western Conference. The Dynamo are honoring front-line medical workers during their 2020 season. When Dr. Citardi was asked for an exemplary employee to recognize as Hero of the Match, physicians in the practice all agreed on Carraway.
"We chose Laurie because of her outstanding dedication to our patients," Dr. Citardi says. "She plays a big role in coordinating our COVID-19 screenings, which are important for keeping our clinic space safe for patients and staff."
At a match in October, the Dynamo publicly thanked Carraway for her service with a video shown on the Jumbotron at halftime.
A native Houstonian, Carraway was interested in medicine from an early age. "Two of my maternal aunts were nurses, and they made a big impression on me. Originally, I wanted to go to nursing school, but life derailed me, so I went to school to be a medical assistant. That was 32 years ago. I can't imagine doing anything else. It gives me a daily opportunity to interact with all kinds of patients, and I like making a difference in people's lives when they're going through a stressful time. I've tried working in different areas like surgery scheduling and referrals, but I'm happiest working one-on-one with patients. Otorhinolaryngology is a great field to be in."
Schedule an Appointment
Call Us
To schedule an appointment over the phone, give our office a call at (713)-486-5019.
Online Appointment Requests
Patients may submit their appointment requests through our online Appointment Request Form.
Both current and new patients can request appointments through MyUTHealth, our patient portal.
---