Dr. Amber Luong Named Vice Chair for Research
---
---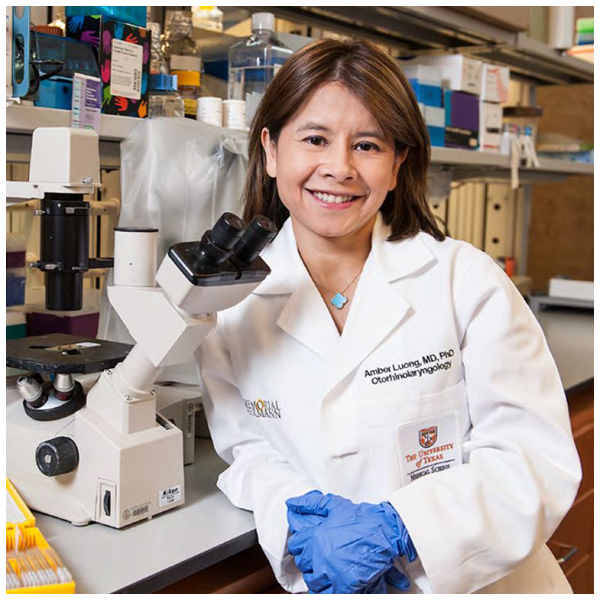 Amber U. Luong, MD, PhD, professor in the Department of Otorhinolaryngology at McGovern Medical School at UTHealth, has been named vice chair for research. In her new role she will expand the department's research footprint to increase productivity and solidify its reputation as a leader in academic otorhinolaryngology.
"In the past, our translational science program centered on the role of innate immunity and environmental triggers on the pathophysiology of chronic sinus disease, which complements my clinical interests," Dr. Luong says. "Over the last five years, we have built the clinical research program with engagement in both industry-sponsored and faculty-initiated clinical trials. So now we have a fairly robust program. Our goal for the future is to extend our research focus to take advantage of our department's rich and large clinical practice in other areas of otorhinolaryngology."
In addition to maintaining a productive research operation, she will assist the chair in developing and recruiting high-potential research faculty. "Dr. Luong has been the driving force in establishing our translational science program focused on inflammatory mechanisms in chronic rhinosinusitis. Looking to the future, she will have a new role with the explicit goals of deepening and widening the research output of the department. Key parts will be mentoring junior faculty specifically about research and the recruitment of one or more basic scientists," says Martin J. Citardi, MD, professor and chair of the Department of Otorhinolaryngology.
Dr. Luong joined the department in 2009 and in less than a decade as director of research built a translational otorhinolaryngology research program from the ground up. She has received numerous awards, including the Women in Otolaryngology Helen F. Krause, MD Memorial Trailblazer Award; the 2017 Women Faculty Forum Excellence Award; the American Rhinologic Society Presidential Citation; and the Triological Society's Edmund Prince Fowler Award. She is a founding member of McGovern Medical School's Women Faculty Forum and has been actively involved in promoting opportunities for professional development for women at the medical school. She was promoted to full professor with tenure in 2020.
Schedule an Appointment
Call Us
To schedule an appointment over the phone, give our office a call at (713)-486-5019.
Online Appointment Requests
Patients may submit their appointment requests through our online Appointment Request Form.
Both current and new patients can request appointments through MyUTHealth, our patient portal.
---