Removal and Reconstruction of an Oral Cavity Cancer During COVID-19 Lockdown
---
---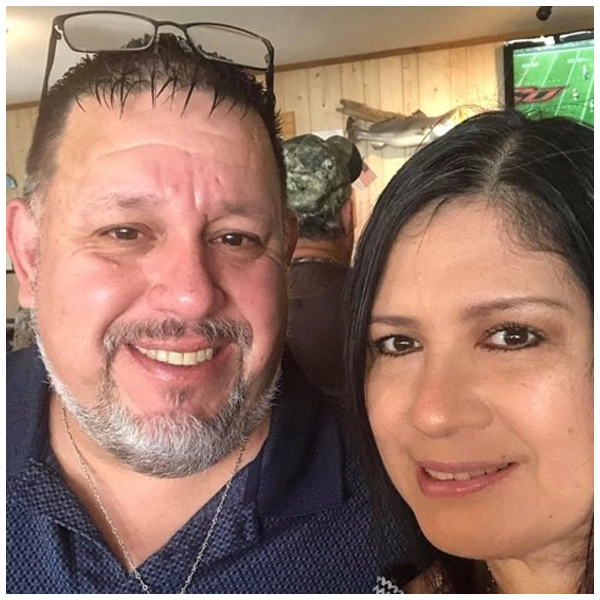 Flor Rodriguez of Kingsville, Texas, is among the many patients who have benefited from the expertise of head and neck cancer surgeons in the Department of Otorhinolaryngology-Head and Neck Surgery at McGovern Medical School at UTHealth.
In early January 2020, Rodriguez, then 50, noticed a mass in her jaw under a molar. "I freaked out because it was so big, and my husband said, 'Let's get you to the dentist right away.' Our dentist asked me to take antibiotics for two weeks. When they didn't help, he extracted the molar and put me on a stronger dose of antibiotics."
When the area failed to heal, he referred her to a radiation oncologist in Corpus Christi, Texas, a 45-minute drive from their home in Kingsville. The radiation oncologist examined Rodriguez and immediately referred her to Ron Karni, MD, chief of the Division of Head and Neck Surgical Oncology at McGovern Medical School, and Kunal Jain, MD, an assistant professor of otorhinolaryngology who focuses his practice on patients with benign and malignant tumors of the head and neck. The two surgeons work closely together, and treat patients at Memorial Hermann-Texas Medical Center.
"When Mrs. Rodriguez was referred to us, Memorial Hermann-TMC was on lockdown for COVID-19, and we were not scheduling elective surgeries. Even though she had cancer, her surgery fell under the elective category because it was not considered immediately life-threatening," Dr. Jain says. "We discussed her case at the OR committee set up during lockdown, and got approval to proceed if she tested negative for the virus."
It was early April, 2020, and the Rodriguez family lived in a rural area where testing was available only for symptomatic patients. "We tried the hospital and a testing site, without success," Ted Rodriguez says. "On a Thursday morning, our county judge was holding a public meeting of the county commissioners to talk about COVID. We went, and he said he was willing to help us get the test. With his help, we were able to coordinate with our physician's office to have Flor tested."
Memorial Hermann-TMC now tests patients for the virus two days before surgery, but last April, early in the pandemic, these procedures were not in place. "It was a real challenge for her to get a test before coming to Houston," Dr. Jain says. "Thankfully, she was able to arrange it and then quarantine before she arrived."
Rodriguez went to surgery on April 8. "She had a 2-centimeter oral cavity cancer of the left jaw," Dr. Jain says. "The usual treatment is surgery, followed by radiation if needed. Our goal was to remove the cancer without disfiguring her face. We created a free flap graft using bone, muscle, and skin from her left leg, and did the entire surgery through the mouth and neck to avoid incisions on her face. Because it was a relatively small cancer, we were able to avoid a tracheostomy."
Rodriguez stayed 10 nights alone in the hospital with no-visitor precautions in place to prevent the spread of COVID-19, but she stayed in touch with her husband through video calls. After discharge, she spent eight weeks on a feeding tube, and was able to eat soft food during the last two weeks.
"Not having to have a trach really helped speed my recovery," she says. "The cancer was small enough that I didn't need radiation or chemotherapy. I'm doing well. I have minimal scars from my earlobe to the bottom of my chin, but they are very well concealed, and I have no scars on my face. We appreciate the awesome work of my surgical team, and feel that had they not acted swiftly, things could have been very different."
Dr. Jain says he is pleased with Rodriguez's result. "The fact that we could do a major surgery through the mouth and neck with virtually no visible scars and relatively little downtime is gratifying to us as surgeons," he says. "We were able to do it in a timely and safe manner despite the COVID-19 lockdown, thanks to the team effort of our hospital OR staff, nurses, and office staff to get Mrs. Rodriguez the care she needed."
Schedule an Appointment
Call Us
To schedule an appointment over the phone, give our office a call at (713)-486-5019.
Online Appointment Requests
Patients may submit their appointment requests through our online Appointment Request Form.
Both current and new patients can request appointments through MyUTHealth, our patient portal.
---