Three UTHealth Pediatric ENTs Named Among Top Doctors by Houstonia Magazine
---
---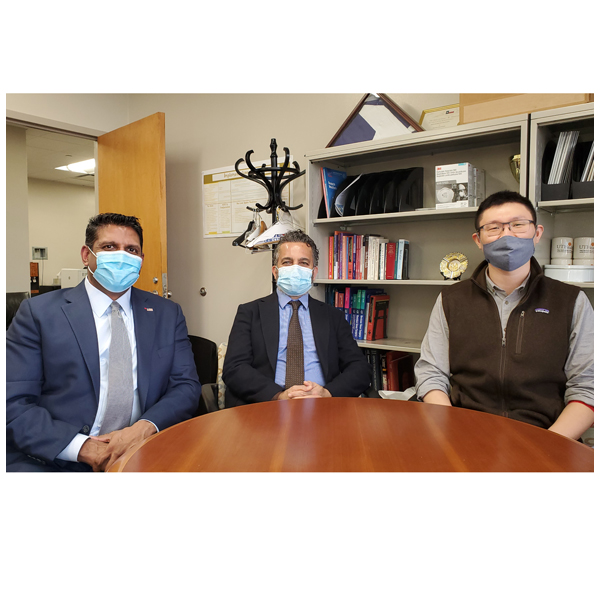 Pediatric otolaryngologists Soham Roy, MD, Sancak Yuksel, MD, and Zi Yang Jiang, MD, have been named by their peers as Top Doctors for 2020 by Houstonia magazine.
"Of the nine pediatric otolaryngologists named to this year's Houstonia Top Doctors list, three are in our practice at McGovern Medical School at UTHealth," says Dr. Roy, professor, vice chair, and chief of pediatric otolaryngology in the Department of Otorhinolaryngology-Head and Neck Surgery. "I'm very proud that our pediatric group's skills are being recognized."
Dr. Roy is an internationally recognized expert in operating room safety issues, particularly fire prevention in the OR, and serves as a consultant in the development of innovative and safer surgical devices. He is an annual course instructor at the meeting of the American Academy of Otolaryngology-Head and Neck Surgery. In August 2020 he was appointed chair-elect of the AAO-HNS Patient Safety and Quality Improvement Committee. Dr. Roy is a fellow of the American Academy of Otolaryngology-Head and Neck Surgery, the American College of Surgeons, and the American Academy of Pediatrics.
Dr. Sancak Yuksel, an associate professor in the Department of Otorhinolaryngology, is a dual fellowship-trained pediatric otolaryngologist and adult otologist-neurotologist and lateral skull base surgeon who treats very complex medical and surgical cases in these subspecialties. He is also subspecialized in sialendoscopy for salivary gland stones and strictures, and is one of a handful of surgeons who perform these procedures in the United States. This is the sixth consecutive year that Dr. Yuksel has been named to the Houstonia Top Doctors list. He also is a five-time recipient of the UTHealth Dean's Teaching Excellence Award and in 2020 was named a Texas Super Doctor by Texas Monthly magazine.
Dr. Zi Yang Jiang is an assistant professor of otorhinolaryngology at McGovern Medical School. Recognized with numerous awards during his academic career, he has presented nationally and internationally and is an author of articles published in peer-reviewed journals. He is a pioneer in the field of continuing education at the medical school. His clinical and research interests include clinical outcomes and cost-effectiveness in otolaryngology, pediatric neck masses and airway surgery, and fetal-neonatal health.
To compile its eighth annual listing of the best physicians in Houston, Houstonia put out a call to more than 15,000 board-certified doctors in the Houston area. The list was created in partnership with DataJoe Research, which tallied the nominations. The magazine compiled the names of the top vote recipients in each specialty and verified that all physicians were currently certified by their respective medical licensing boards.
Schedule an Appointment
Call Us
To schedule an appointment over the phone, give our office a call at (713)-486-5019.
Online Appointment Requests
Patients may submit their appointment requests through our online Appointment Request Form.
Both current and new patients can request appointments through MyUTHealth, our patient portal.
---