Endoscopic Surgery for a Rare Presentation of Sinonasal Osteoma
---
---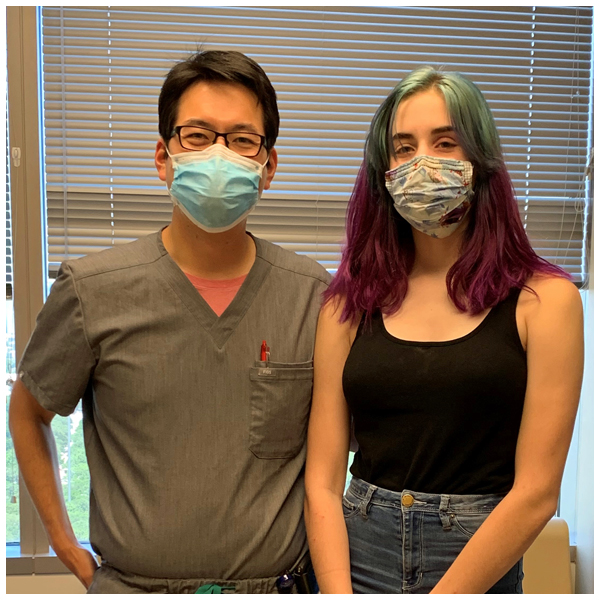 When Phoebe Murphy first complained of headaches, her parents, both of whom suffer from migraines, thought she might have inherited the tendency.  "We spent two years trying different medications for her headaches, but nothing relieved them," says Phoebe's mother, Jeannie Murphy. "Eventually they became so bad that she was missing school because she didn't want to get out of bed. They were very emotional for her, and it was hard for her to focus. Then her vision began to change. She was seeing auras and had dead spots in her vision. She also lost her peripheral vision in the left eye."
When an MRI revealed a mass in Phoebe's left sinus extending behind the eye, her pediatrician referred her to William Yao, MD, a fellowship-trained rhinologist and assistant professor in the Department of Otorhinolaryngology-Head and Neck Surgery at McGovern Medical School at UTHealth. Based on his findings on physical exam and CT scan, he recommended surgery.  "The mass was growing from the sinus and pushing into her orbit, and there was also concern that it could be malignant," Dr. Yao says. "She was just 16, and her headaches and vision were worsening. We scheduled her for the OR for biopsy and possible resection of the tumor."
The surgery took place in early April 2020, when Memorial Hermann-Texas Medical Center was under full lockdown for COVID-19 and scheduling surgeries only in urgent cases. Dr. Yao used an endoscopic endonasal approach, avoiding a facial incision.
"Phoebe's presentation was uncommon, and her case was challenging," he says. "We knew from the CT scan that the benign tumor was pushing against her left eye, and in surgery we saw that the bony margins of the tumor were intimately associated with the extraocular muscles and orbital fat. Given the size of the tumor, it was applying pressure to the optic nerve, causing the vision problems. The most difficult part was removing the tumor without injuring the eye, optic nerve, and eye muscles, which could lead to permanent double vision or vision loss."
Phoebe made a great recovery. Immediately after surgery, her eye was slightly inset and positioned to the left in the orbit, causing double vision. Gradually, over a month and a half following surgery, her eye recentered and her vision returned to normal. When Dr. Yao saw her in follow-up at the end of June, he was pleased with her progress.
Jeannie Murphy thought the entire process went well. "We were able to get in to see Dr. Yao less than two weeks after we were referred," she says. "Everything was very fast-paced, which was a blessing. No parent wants to go through that with a child, but if you have to, Dr. Yao is the best choice as far as I'm concerned."
---