Minimally Invasive Sialendoscopy Provides Relief for Aster Kebreab
---
---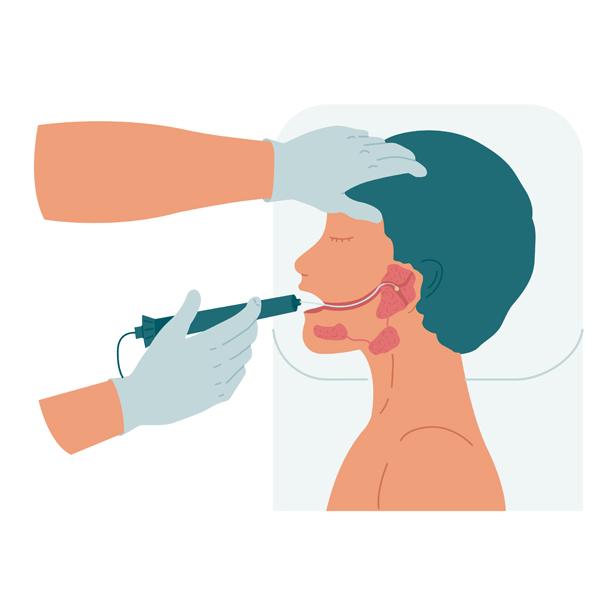 For nearly a decade, Aster Kebreab's right cheek swelled when she ate, and if she pressed on it, it was painful. During those years she saw her dentist, an allergist, and several ENTs, all of whom prescribed various antibiotics.  "The antibiotics helped, but it reached the point that my cheek was swollen once or twice a month," says Kebreab, 50. "I knew I needed to do something different."
Eventually, she found UT Physicians Otorhinolaryngology-Texas Medical Center where she saw Sancak Yuksel, MD, an associate professor in the Department of Otorhinolaryngology-Head and Neck Surgery at McGovern Medical School at UTHealth. Dr. Yuksel is one of a handful of surgeons in Texas with expertise in minimally invasive sialendoscopy.
"Ms. Kebreab had a very narrow duct in the right parotid gland and while there was no stone behind it, debris and thick mucus had accumulated," he says. "If we don't remove it, calculi may build up around it, forming a sialolith and trapping saliva in the gland, which can lead to more pain."
During a day surgery, Dr. Yuksel used a very fine endoscope equipped with a wire basket to dilate the parotid gland duct and remove the thick debris and sludge.
"In the past, surgical management of sialolithiasis and similar conditions unresponsive to conservative management was resection of the salivary gland through a facial incision," Dr. Yuksel says.
"Sialendoscopy gives us a platform for removing accumulated debris or smaller stones, usually 5 millimeters or less in diameter, without a formal incision."
Patients come to Dr. Yuksel from across Texas and neighboring states for sialendoscopy. done. Many find him by searching the procedure online.
Kebreab says she had a good patient experience. "Dr. Yuksel is very relaxed and mellow. He listens until you finish talking, and then explains the procedure in detail," she says. "By the time I got home after the surgery, everything was normal. I returned to my usual diet right away, without the swelling. After that, it was all good."
---