State-of-the-Art ORs Open a New Chapter for the Department of Otorhinolaryngology
---
---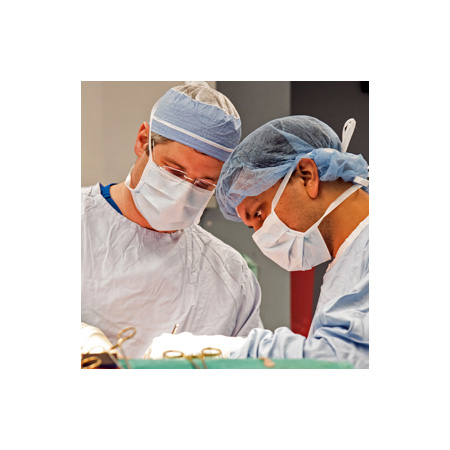 The new 17-story Susan and Fayez Sarofim Pavilion at Memorial Hermann-Texas Medical Center includes state-of-the-art operating rooms dedicated for the use of otorhinolaryngologists at McGovern Medical School at UTHealth Houston.
"The new ORs were built to our specifications and are equipped for every type of complex surgery we do as ENTs, from endoscopic sinus and skull base surgery to facial plastic surgery, head and neck surgical oncology, otology, trauma, and surgeries of the larynx, mouth and throat, as well as structures of the neck and face," says Ron Karni, MD, associate professor and chief of the division of head and neck surgical oncology at McGovern Medical School. "Our move to the new ORs last fall marked a huge advancement for us as surgeons and gave us access to the latest technology in ventilation, lighting, surgical software, and robotics. It's rare for an institution to have ORs dedicated solely to ENT. Our new surgical space is almost double in size, with features designed to improve patient safety. These ORs live and breathe ENT."
The Sarofim Pavilion opened in March 2021 with 24 ORs, 186 patient beds, and an emergency center more than double the size of the previous space, with 63 treatment bays, up from the previous 48. The new tower adds 1.34 million square feet to the existing 2.5 million-square-foot campus of Memorial Hermann-TMC. The pavilion also is the new home of the Level 1 Red Duke Trauma Institute, which provides care for the most critically ill and injured patients.
---