Hypoglossal Nerve Stimulation for Patients with Sleep Apnea Who Can't Tolerate CPAP: Two Patients Benefit
---
---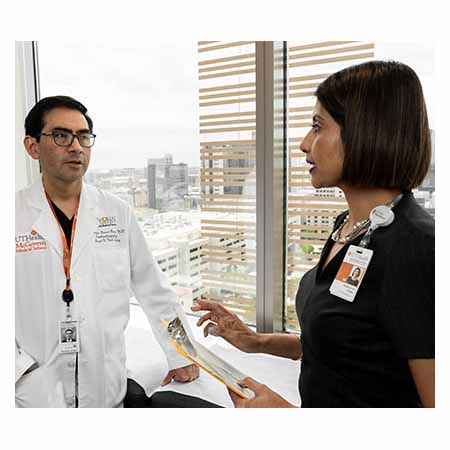 Charles Njilefack was prescribed a continuous positive airway pressure (CPAP) machine 15 years ago for obstructive sleep apnea (OSA). When he first received the device, he found it cumbersome to use and set it aside.
"But I was not sleeping well, so I pushed myself to start using it," says Njilefack, now 61. "After some time, I realized that I was not well-rested, and that the CPAP device was not meeting my expectations. I wondered if this was what my life would be like going forward."
Although Njilefack passed a sleep study using the CPAP, he continued to search for a better solution. One day, he saw an ad for the Inspire™ Sleep Apnea Innovation, a small implantable device that stimulates the hypoglossal nerve in patients who are intolerant of CPAP and bi-level positive airway pressure (BiPAP), and who do not have a complete blockage of the upper airway.
His research on the Inspire device led him to Fernando Gomez-Rivera, MD, an assistant professor in the Department of Otorhinolaryngology-Head and Neck Surgery at McGovern Medical School at UTHealth Houston. Gomez performed a sleep endoscopy procedure under light sedation, inserting a thin, flexible camera through Njilefack's nose to localize his upper-airway obstruction. His patient went home immediately after the short procedure and returned a week later to learn he was a good candidate for Inspire.
The Inspire implant has three components: a pressure sensor, generator and central processing unit (CPU), and a stimulator cuff. In the OR, Gomez isolates the hypoglossal nerve and wraps the stimulator cuff around it. A wire connects the cuff to the CPU and generator, which is implanted in the right side of the chest much like a Pacemaker. The pressure sensor is placed in the intercostal muscles between two ribs so that when the patient inhales, the movement is detected and data is sent to the CPU. The stimulator receives the information and stimulates the tongue to move forward to keep the airway open.
After the device is implanted, the surgical team tests stimulation of the tongue in the OR to ensure proper placement of the cuff. Then they check the sensor in the chest wall before turning the system off to allow the patient time to heal.
Gomez implanted Njilefack's device in a same-day surgery in March 2021, and after a follow-up visit to ensure a good recovery, he referred his patient to Aparajitha Verma, MD, MBA, a neurologist and sleep medicine specialist in the Vivian L. Smith Department of Neurosurgery at McGovern Medical School and director of clinical and business development at UTHealth Houston Neurosciences.
"About 50% of people with sleep apnea diagnosed by a sleep study are unable to tolerate CPAP or BiPAP," Verma says. "These patients have increased risk of heart attack, stroke, high blood pressure, and cognitive issues, as well as risk of car or work-related accidents due to lack of good sleep."
Chris Pratt, another of Verma's patients, used a CPAP for more than two years. "Within the first six months, I realized it wouldn't work for me," says Pratt, who is 50. "I made a valiant effort, but after a while, I would pull the CPAP off. Dieting didn't improve my sleep apnea, and I knew I would have to do something else. Once my insurance approved the surgery, things moved quickly."
Pratt was released after day surgery, and six weeks later he saw Verma and the Inspire representative in an office visit. "Dr. Verma and the rep activated the device in the office and left it up to me to increase the amplitude of the settings," he says. "I adapted to it pretty quickly, upped the settings one notch each week, and reached the maximum level of the first round of increase availability on the machine."
Verma scheduled Pratt for a second sleep study to check for improvement in his apnea in comparison to his first study. "The results were good, and during the study my breathing was much better and my sleep apnea was under control," Pratt says. "I had very minimal instances of apnea with the device operating."
Verma and the Inspire representative recalibrated his Inspire device to the optimal settings based on his second sleep study. "They adjusted the levels, and I went through another increase with the machine," he says. "My goal was to have zero sleep apnea. My work hours vary, and when I'm asleep now, I get optimal sleep, which makes me feel much better. Dr. Verma and the Inspire staff have been great. I've learned a lot, and there are some great things coming, including using Bluetooth to activate the device with my phone, instead of a remote."
Charles Njilefack agrees. "Before I had the implant, I had to carry my CPAP with me when I traveled," he says. "If you forget a power cord, you're out of luck. Now all I have to pack is my remote. I like not having to wear a CPAP over my face, and I'm beginning to hit that sweet spot where I don't wake up as often as I used to. I understand that it may not be 100% effective, but it's close to that. The fact that I don't have to go to sleep with a mask with tubes has won me over. So far it's working for me, and I've recommended it to a couple of people."
To qualify for Inspire, patients must be age 18 or older, have moderate to severe OSA with an apnea-hypopnea index (AHI) from 15 to 65 on a diagnostic sleep study and not be significantly obese. "If patients weigh more than our target body mass index of 35, we discuss strategies to lose weight before surgery so that they can achieve more benefit from the device," Verma says. "The outpatient implantation procedure takes about two hours, and most patients do not require antibiotics or steroids after surgery. Usually, the only pain control required is an over-the-counter pain reliever like Tylenol® or Advil®."
Once the device is activated, Verma sees patients at four weeks via virtual meeting. At six weeks, she sees them in person to check and adjust the settings.
"The device's start delay time is usually set at 30 minutes but can be adjusted to allow the patient to fall asleep before the stimulator is activated," Verma says. "Each night, the patient turns on the device following my recommendations based on a personalized titration protocol for the settings. Two to three months after the device has been implanted and activated, we do another sleep study while the patient is using the device. The sleep technologists work with an Inspire technologist to adjust the stimulation to get the best possible sleep result during the patient's sleep study with Inspire. We also follow patients periodically afterwards to ensure that they are getting a good night's sleep." For more information about Inspire or other treatment options for sleep issues, call (713) 486-8000, or click here.
---