Dr. Sancak Yuksel Named Faculty Member of the Year
---
---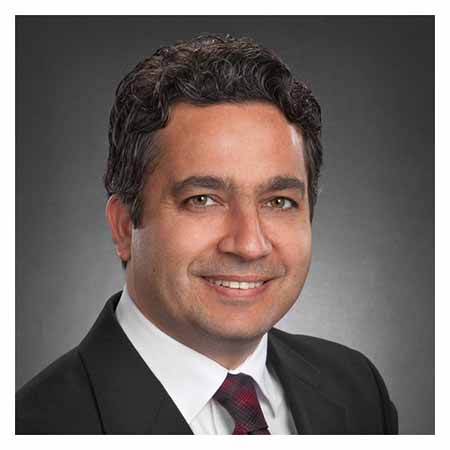 Residents of the Department of Otorhinolaryngology-Head and Neck Surgery at McGovern Medical School at UTHealth Houston have recognized Sancak Yuksel, MD, as Faculty Member of the Year for 2022. An associate professor of otorhinolaryngology, Dr. Yuksel is a pediatric otolaryngologist and an adult otologist-neurotologist and lateral skull base surgeon who treats complex medical and surgical cases in these subspecialties. He is also subspecialized in sialendoscopy for salivary gland stones and strictures, and is one of a handful of surgeons who perform these procedures in the nation.
Each year, residents of the department have the opportunity to name the faculty member they feel has made the greatest impact on their learning experience. "I am honored to receive this year's award and feel privileged to have helped train this particular group of residents," he says.
A native of Turkey, Dr. Yuksel received his medical degree at Hacettepe University School of Medicine in Ankara in 1992, after six years of study plus an extra elective year of English preparation. He completed a year of internal medicine residency and then completed residency training in otolaryngology at Cerrahpasa Medical School at Istanbul University.
Afterwards, he completed advanced fellowship training in head and neck surgery, skull base surgery, and otology-neurotology. Three years into his advanced training, Dr. Yuksel decided to go to the U.S., where he served as a research fellow in the Basic Science Laboratory of the Children's Hospital of Pittsburgh, working on numerous National Institutes of Health-funded projects focused on the middle ear and Eustachian tube pathophysiology. His original plan was to return to Turkey, but when the hospital awarded him the Lester A. Hamburg Endowed Fellowship in Pediatric Otolaryngology, he and his family stayed. During that time, he also served as an instructor at the University of Pittsburgh School of Medicine.
"I was happy to find the missing pediatrics piece of my training, and in doing so, I discovered my calling," he says. "If you're an ENT seeing a child, you're the ultimate referral. Even the best pediatrician may miss a simple problem with hearing that has the potential to lead to a developmental delay. Often just a 15-minute surgery makes a huge difference in a child's life."
---