Clinical Services
Texas Medical Center

The Neonatology Division at McGovern Medical School has been affiliated with Hermann Hospital in providing care for newborns with complex medical and surgical problems since 1970. In August 1999, we moved into new NICU facilities at Children's Memorial Hermann Hospital. In April 2008, a new Level 2 unit was opened on the floor above the existing NICU. There are approximately 5,000 deliveries per year at Memorial Hermann Hospital of which 25-30% are high-risk pregnancies. A very active referral service for women with high-risk pregnancies and a very busy neonatal transport system result in a relatively high proportion of VLBW admissions. There are 900-1,000 admissions to the NICU per year; approximately one third are outborn. Our patients benefit from a full spectrum of pediatric medical and surgical subspecialty and transport services available at Children's Memorial Hermann Hospital. The UT-Houston neonatologists coordinate antepartum care for high-risk pregnancies with the Maternal-Fetal Medicine specialists at the Medical School. A multidisciplinary Texas Center for Maternal and Fetal Treatment has been established for antepartum evaluation and counseling of pregnancies complicated by congenital anomalies.
The recently expanded Neonatal Intensive Care Unit (NICU) at Children's Memorial Hermann Hospital has 118 medical/surgical beds overall with 80 intensive care beds and 38 intermediate care beds. In addition to pediatric housestaff and neonatal nurse practitioners, the unit is staffed 24 hours a day with a neonatology faculty member or fellow. Our goal is to provide excellent care that is comprehensive and coordinated, interdisciplinary, and patient-centered. The following subspecialty services are provided:
| Medical | Surgical | Additional NICU Services |
| --- | --- | --- |
| Pediatric Allergy/Immunology | Pediatric Cardiovascular Surgery | ECMO |
| Pediatric Cardiology | Pediatric General Surgery | Hypothermia for hypoxic-ischemic encephalopathy |
| Pediatric Endocrinology | Pediatric Craniofacial | Lactation specialists |
| Pediatric Gastroenterology | Pediatric Neurological Surgery | Neonatal nutrition support team |
| Pediatric Genetics/Metabolism | Pediatric Ophthalmology | Neonatal clinical pharmacist |
| Pediatric Hematology | Pediatric Otorhinolaryngology | Nitric oxide and high frequency ventilation |
| Pediatric Infectious Diseases | Pediatric Urology | Renal dialysis |
| Pediatric Nephrology | | |
| Pediatric Neurology | | |
| Pediatric Pulmonology | | |
| Pediatric Radiology | | |
| Pediatric Rheumatology | | |
---
Consultation & Transport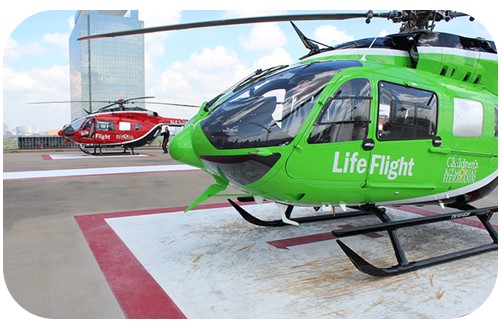 Telephone consultation is provided 24 hours a day with our faculty neonatologists on call at Children's Memorial Hermann Hospital.
Consultations/Referrals/Transport
713-704-2500 or 800-392-5433
Transports are staffed by specially trained neonatal transport nurses and when necessary, by a faculty member or fellow. Our Transport Team operates in close collaboration with Memorial Hermann Life Flight, so that arrangements can be made for transport by air or ground, as appropriate.
---
Family Accommodations
Facilities for our NICU patients' families include breastfeeding rooms, isolation rooms, overnight rooms for parents pre-discharge and the Ronald McDonald House for parents of hospitalized infants. The new Level 2 unit has all private patients room with accommodations for the parents to stay in the infant's room.
---

The neonatology service at LBJ General Hospital was established in 1990. It serves one of two large obstetrical services for the Harris County Hospital District. There are approximately 6,000 deliveries per year at LBJ Hospital. About 600-700 infants, all inborn, are admitted to our NICU each year. This nursery has 36 medical/surgical beds overall with 12 ICU beds and 2 isolation rooms. The neonatology service provides comprehensive intensive care for seriously ill neonates in the NICU at LBJ Hospital. Pediatric medical and surgical consultation is available from the UTHealth faculty.
---
In a large metropolitan city as Houston, traveling long distances to be close to their babies is difficult and disruptive for parents. UTHealth Neonatology is committed to providing world class care close to home. In addition to our primary practice site at Children's Memorial Hermann Hospital in the Texas Medical Center, our neonatologists provide inpatient neonatal services at other Memorial Hermann Hospitals including:
Contact Information
McGovern Medical School Neonatal-Perinatal Academic Offices
Department of Pediatrics
6431 Fannin, Suite 3.242
Houston, TX 77030
Telephone: 713-500-5733
Fax: 713-500-5794
Children's Memorial Hermann Hospital NICU
6411 Fannin
Houston, TX 77030
Telephone: 713-704-2900
Fax: 713-704-3834
Consultation/Referrals/Transports
713-704-2500 or 800-392-5433 (answered 24-hours a day)
Lyndon Baines Johnson Hospital NICU
5656 Kelley St.
Houston, TX 77026
Telephone: 713-566-5828