Spinal Cord Injury Medicine Fellowship
Spinal Cord Injury Medicine Fellowship (ACGME-accredited)
Welcome from the Program Director – Isaac Hernandez Jimenez, MD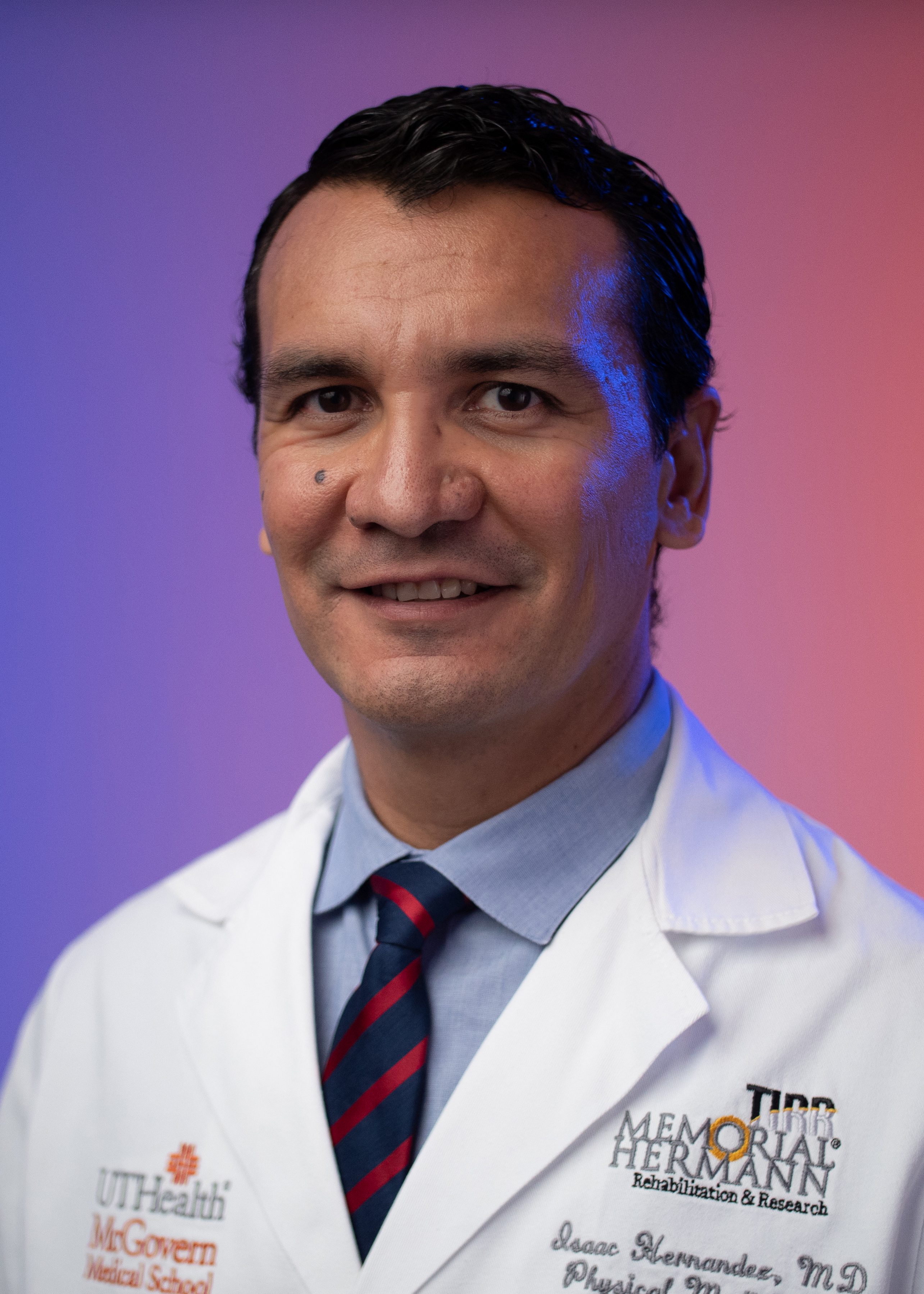 The Spinal Cord Injury Medicine Fellowship prepares fellows to develop skills in acute Spinal Cord Injury (SCI) management, acute rehabilitation, and long-term care of persons with SCI. Our fellows spend at least six months of the year at The Institute of Rehabilitation and Research at Memorial Hermann (TIRR MH) and Memorial Hermann Hospital-Texas Medical Center (MHH-TMC) while doing inpatient rehabilitation, consults and outpatient work. They will also spend at least four months at the Michael E. DeBakey VA Medical Center SCI Service Line.  Furthermore, fellows have the flexibility of two months of electives that can include additional outpatient or inpatient rotations, research, or participating in one of the courses offered by our university (e.g. research, administration, education). This arrangement provides a well-balanced exposure to both acute and chronic SCI in multiple practice settings.
Michael E. DeBakey VA Medical Center
– Weekly bedside wound care rounds with attending physicians, residents, and plastic surgeons.
– Weekly urology rounds hosted by a neuro-urologist.  During this time the fellow learns to read urodynamic tracings and learns about the different treatment options for neurogenic bladder.
– Weekly infectious disease rounds hosted by specialists who are innovators, leaders, and vested heavily into research of SCI patients.
– Opportunities to observe and perform procedures including chemodenenervation, ITB pump management and refills, urodynamic studies, plastic and neurosurgery (the latter implanting intrathecal pumps).
– Outpatient clinics involving yearly physicals, during which the fellow acts as the primary care physician for patients with SCI under the guidance of faculty.
TIRR Memorial Hermann and Memorial Hermann – Texas Medical Center
The Rotation at TIRR MH and MHH-TMC provides exposure to recently injured patients and the acute rehabilitation process. Two of the six months are spent at the TIRR MH outpatient clinic (and others) where fellows are exposed to caring for new and established individuals with chronic SCI, interventional spasticity management (including injections and ITB pump management), urology clinic (including fertility clinic with exposure to electroejaculation procedures and UDS) as well  as spina bifida clinic, hand surgery clinic, and neurourology clinic at nearby sites. These two months are made up of 8-9 half day clinics per week with ½ day or, at times, a full day for educational activities such as getting 1:1 training on itb management, working with the exoskeleton team (including donning it), research, etc.
Other specialists that fellows can choose to spend time with, if so desired, include psychiatrists, internists, a wound MD, a social worker and others.
The remaining 4 months of this rotation involve managing an inpatient service at TIRR MH, a freestanding acute rehabilitation hospital with 2 active inpatient SCI services. TIRR MH is internationally recognized for excellence in rehabilitative medicine and part of the SCI Models System. Each member of the teams on the SCI service (PT, OT, RN, psychology, social work, etc.) see SCI patients almost exclusively – allowing for a focus and expertise not only of the physician but of the whole team. At TIRR MH, fellows are exposed to specialty wheelchair and seating clinic, management of patients on mechanical ventilators (one of our unique features as PM&R is who does the management) along with exposure to implantation of diaphragmatic pacers and/or phrenic nerve stimulators, robotics, and other cutting-edge practices not commonly seen in rehabilitation centers with a smaller SCI census.
Additionally, during part of these months, fellows also spend time doing consults at one of the busiest level one trauma centers in the country — which receives patients from many areas of Texas and surrounding states. At MHH-TMC, the fellow is a consultant responsible for making recommendations for the acute management of SCI patients in the intensive care unit setting, working closely with neurosurgeons and intensivists. The fellow is exposed to multiple levels of spinal cord injuries from traumatic and atraumatic causes.T IRR MHH's Case Mix Index indicates that we care for some of the most acute and medically complicated patients seen by any rehabilitation facility in the country. At any given time, each inpatient service at TIRR MHH may carry 2-4 patients on ventilators. By the end of their time at TIRR MHH, fellows should be competent to care for the most complex SCI patients.
Fellows complete their training with a solid foundation in SCI medicine.
In summary, unique strengths of our fellowship experience include:
A good balance of both acute and chronic SCI, VA and private/academic practice, inpatient and outpatient experience, in the settings SCI-professionals typically practice.
Opportunities for learning and mentorship from a total of > 10 actively practicing, subspecialty- certified SCI physicians.
Opportunities to learn from providers with SCI expertise within the rehabilitation team (e.g. PT/OT/SLP, RN, psych, RT, etc) as well as with consultants with similar expertise (e.g. hand surgery, urology, internal medicine, etc.)
A strong faculty commitment to fellow education, in which the faculty often outnumber the fellows.
An opportunity to practice in a freestanding rehabilitation hospital with an SCI center that is internationally recognized for excellence in clinical care and research.
To learn more, please contact our Fellowship Coordinator, Kathy Brown, at 713-797-7429 or via email Kathy.Brown@uth.tmc.edu.
Twitter: @UTHPMR
Facebook: UTHealth PMR
Instagram: @UTHPMR