Autism
A Double Blind Randomized Placebo Controlled Study of CM-AT for the Treatment of Autism in Children with All Levels of Fecal Chymotrypsin
Investigators at the University of Texas Health Science Center at Houston are conducting a 14-week, placebo-controlled research study to assess the safety and effectiveness of an investigational medication (CM-AT) designed to alleviate the symptoms of autism in children. CM-AT is an enzyme formulation children take with food to help them digest proteins. When protein is digested, it creates substances necessary for proper brain development and function. [read more]
We are currently recruiting children who:
Have a diagnosis of autism.
Are 3-8 years old.
Children are not eligible for the study if they:
Weighs less than 28 pounds.
Has allergies to pork products or pancreatic enzymes.
Has a history of severe head trauma or stroke.
Had a seizure within the year prior to enrollment.
Is diagnosed with a chronic illness impacting overall health.
Research participants will:
Take the medication or placebo ("fake medicine") for up to 14 weeks—the tasteless medication is sprinkled on food, so no pills to swallow.
Be seen by a physician and a psychologist in our clinic on a regular basis.
Receive some compensation for time and travel.
Additional information regarding all risks and benefits of study participation will be discussed with families during the screening visit. This research study is being conducted by Principal Investigator Deborah A. Pearson, Ph.D. and Co-Investigator Cynthia Santos, MD
Additional information
CHDR Research Participant Form (please submit to Rosleen Mansour)
Contact:
Email: Rosleen.Mansour@uth.tmc.edu
Phone: 713-486-2591
Fax: 713-383-3719
Behavioral and Biomedical Sciences Building, 2nd Floor
Attn: Rosleen Mansour
1941 East Rd.
Houston, TX 77054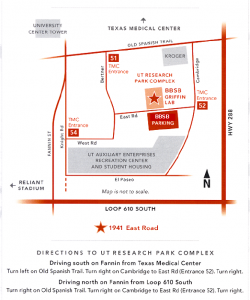 ---
CHDR Research Registry
The Center for Human Development Research (CHDR) has established the CHDR Research Registry to recruit and match participants to studies of developmental and intellectual disabilities. The information collected from our research may provide better understanding of intellectual disabilities, how and why they occur and may lead to earlier diagnosis and treatment. With several new studies being planned, we invite those interested to join our registry.
Benefits of joining the registry are:
Free screening assessments that may include intelligence, academic, language skills and behaviors related to ASDs.
Some studies may also include additional activities such as Magnetic Resonance Imaging (MRI), medical treatment and genetic screening.
The opportunity to contribute to scientific knowledge about the origins and treatment of certain intellectual disabilities.
Participants may include:
Children, adolescents and adults with and without autistic spectrum disorders (ASDs)
Children with learning disabilities such as mental retardation, ADD/ADHD or other developmental disabilities.
Submitting the completed CHDR Research Registry Form does not obligate you to participate, nor does it guarantee that you or your child will be eligible to participate in any of our research studies. All information provided will be confidential and only used by CHDR researchers to determine eligibility. In the event you, or your family member, are selected as a possible candidate for participation in a research study, you will be contacted by telephone or by mail. You will then be provided information about the research study, and what participation would involve. If, at the time you are contacted, you indicate you are interested in participating further, you will then begin the screening process to become a research study participant. You may remove your name from our research registry at any time.
Additional information
CHDR Research Participant Form (please submit to Rosleen Mansour)
Contact:
Email: Rosleen.Mansour@uth.tmc.edu
Phone: 713-486-2591
Fax: 713-383-3719
Behavioral and Biomedical Sciences Building, 2nd Floor
Attn: Rosleen Mansour
1941 East Rd.
Houston, TX 77054