Clinical Site Overview
Overview
Train in a variety of sites with diverse modalities and demographics.
Work on general and specialty units at the 2nd largest stand-alone academic inpatient psychiatric facility in the country.
Unique opportunities in specialty and community clinics.
Exposure to neuromodulation treatment modalities such as vagus nerve stimulation, repetitive transcranial magnetic stimulation (rTMS), transcranial direct current stimulation (tDCS), magnetic seizure therapy, and deep brain stimulation (DBS). Opportunity to become certified in ECT.
Early exposure to psychotherapy training, with opportunities to develop skills in brief interventions and manualized treatments.
Protected time throughout training for didactics, scholarly interests, and passions.
UTHealth Continuum of Care Campus for Behavioral Health
In early 2022 UTHealth will open the 264-bed Continuum of Care Campus (CCC) for Behavioral Health. The new campus will be directly adjacent to the existing 274-bed Harris County Psychiatric Center (HCPC). The two facilities with a combined 538 beds, will be run as one hospital, with one medical staff, in two locations. The combined bed count will make this the largest academic psychiatric hospital in the nation and one of the largest psychiatric hospitals of any type in the United States.
The state of Texas and Harris County own the building that houses HCPC and the State will own the building that houses the CCC but UTHealth will own and govern the "business within the buildings." This unique and successful public/academic partnership has served the state well for over 30 years and will be extended to the new facility as well.
In addition to the short-term acute care services provided at HCPC, the new facility will add sub-acute and longer-stay services to help bridge the "clinical gap" that often exists as patients move from inpatient to outpatient levels of care.
Treatment services will include psychiatric evaluation and treatment, psychological assessment, individual, group and family psychotherapy, as well as clinical social services and recreational therapy.
Specialized units include treatment of first episode psychosis and patients with "early onset" mental illness, as well as competency restoration. Anticipated patient populations include children and adolescents, dual diagnoses, schizophrenia, bipolar disorder and geriatrics. Additionally there will be a newly designed space for the treatment of refractory mood disorders.
It is expected that the new combined facilities will become a hub for both clinical and public health/public policy research stemming from its design to help bridge the treatment gaps in the continuum of care. The UTHealth Department of Psychiatry, a department of the UTHealth McGovern Medical School and the UTHealth School of Public Health are already beginning to collaborate on innovative research projects for this new campus.
This UTHealth Department of Psychiatry and the Continuum of Care Campus are currently working with the Local Mental Health Authority to coordinate on expanded step-down housing services that will be integrated into the treatment programs of the CCC.
---
UTHealth Harris County Psychiatric Center (HCPC)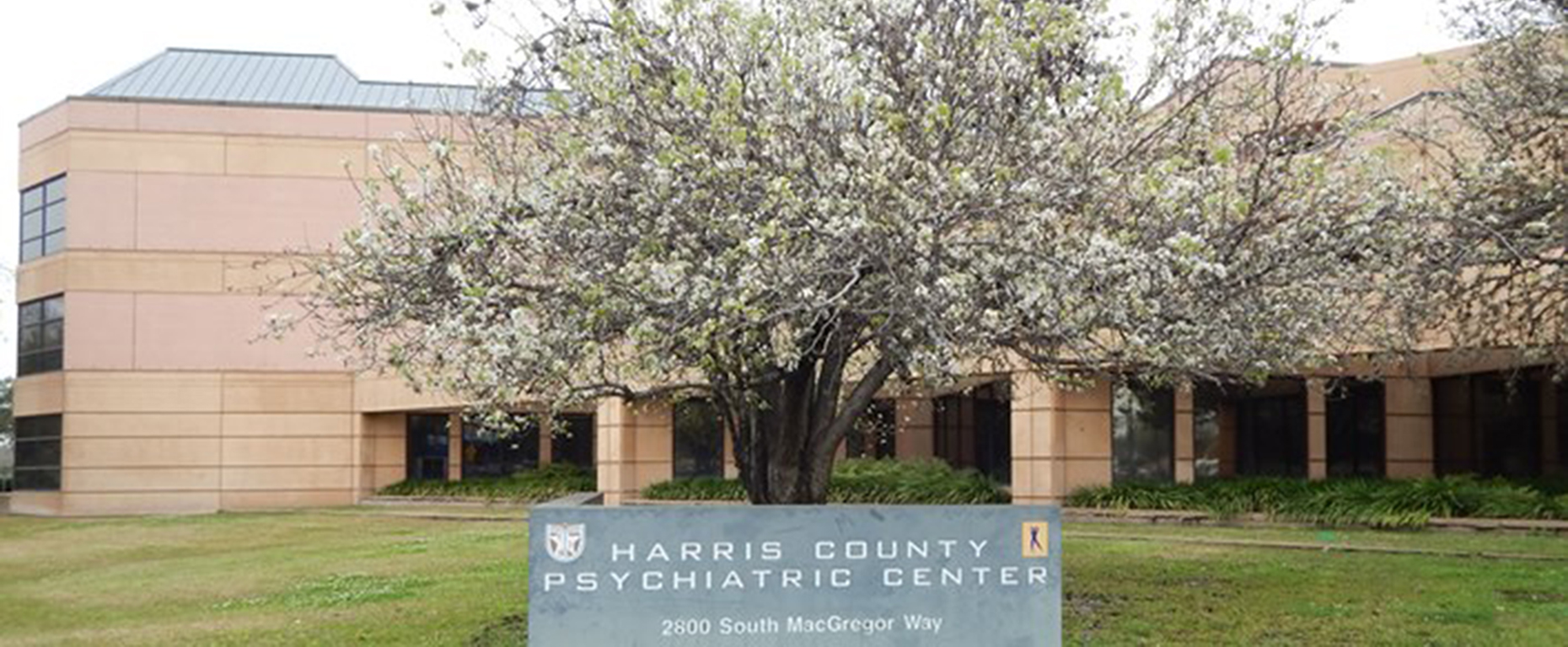 UTHealth HCPC serves as the main site for inpatient psychiatry training during PGY-1 and PGY-2. Electives are available in the PGY-4 year according to program resources and interests among senior residents, including Administrative Psychiatry, Advanced Psychotherapy, and Junior Attending months.
Residents have multidisciplinary team rounds daily with nursing and social work staff, medical students, and their attending physician. Residents take in-house call for the purpose of both hospital coverage and assessment of new admissions. These call shifts are spread throughout the academic year and are taken under the supervision of the attending on-call, including child and adolescent fellows and attendings.
---
The University of Texas MD Anderson Cancer Center (MDACC)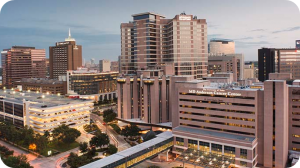 MD Anderson Cancer Center is located in Houston on the sprawling campus of the Texas Medical Center. It is one of the world's most respected centers devoted exclusively to cancer patient care, research, education and prevention. Since 1944, more than 1.4 million patients have turned to MDACC for cancer care. The multidisciplinary approach to treating cancer was pioneered at the institution. This approach brings together teams of experts across disciplines to collaborate on the best treatment plan for patients. Because MD Anderson's experts focus solely on cancer, they're renowned for treating all types of cancer, including rare and uncommon diseases.
PGY-2 and PGY-4 residents rotate on the Psychiatry Consult and Liaison service at MD Anderson Cancer Center. The residents are supervised by the faculty psychiatrist while rotating at this institution and work in coordination with skilled nurse practitioners to evaluate patients with psycho-oncology needs.
---
Lyndon Baines Johnson Hospital (LBJ)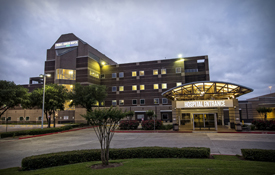 LBJ is one of Houston's public general hospitals. It is located in Northeast Houston and is operated by UTHealth faculty and house-staff. PGY-1 residents rotate through EM and Internal Medicine services at LBJ.  PGY-2 and PGY-4 residents work on the Psychiatry Consult and Liaison service and often refer patients needing inpatient admission to UTHealth HCPC. This consult service also provides learning opportunities for medical students on the psychiatry team.
---
Memorial Hermann-Texas Medical Center (MH-TMC)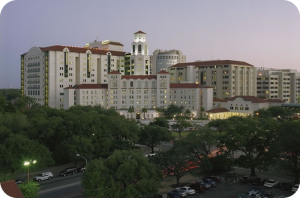 MHH-TMC is the primary teaching hospital of UTHealth McGovern Medical School. As one of only two certified Level I trauma centers in the greater Houston area, the hospital provides 24-hour emergency and trauma care to more than 40,000 patients a year. Memorial Hermann Life Flight® air ambulance service operates a fleet of six helicopters, providing emergency rescue and air transport services to a multi-county area.
Residents and fellows provide consultation services for children, adolescents and adults at the MHH-TMC. The adult consult service has one full-time attending (Jeffrey Barr, MD) as well as a PGY-4 Psychiatry resident and rotating trainees from other departments such as neurology. The child psychiatry service is staffed by Jason James, MD, along with a second-year child fellow. These consult services also provide learning opportunities for medical students on the psychiatry team.
---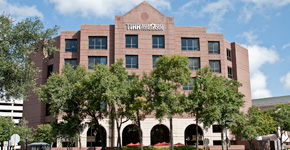 Continually recognized as one of America's Best Hospitals by U.S. News & World Report, TIRR Memorial Hermann is a national leader in medical rehabilitation and research. It also serves as one of the teaching hospitals of UTHealth McGovern Medical School. Residents will partner with our admitting physicians on the care of individuals with cognitive, emotional, and behavioral problems resulting from a broad range of neurological conditions, including traumatic brain injury, stroke, and other acquired brain injuries.
---
UT Physicians Outpatient Psychiatry Clinic – BBSB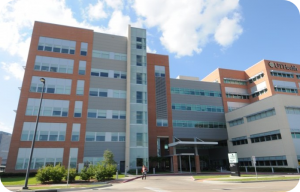 The UT Physicians Outpatient Psychiatry Clinic is located in the Behavioral and Biomedical Sciences Building (BBSB) and serves as the primary outpatient care facility of the Department of Psychiatry and Behavioral Sciences.
The resident rotation consists of one half-day per week for PGY-3 residents for adult intake and adult teaching clinic, with additional time for electives in Geriatric Psychiatry, Transplant Psychiatry, Neuropsychiatry, Telepsychiatry, TMS, and with the Trauma and Resilience Center. In addition, all didactics for the PGY-3 and PGY-4 residents take place at BBSB.
---
UT Physicians Community Clinics


Affiliated with McGovern Medical School at The University of Texas Health Science Center at Houston (UTHealth), UT Physicians Community Clinics provide multi-specialty care throughout the Greater Houston area.
---
UT Physicians Center for Healthy Aging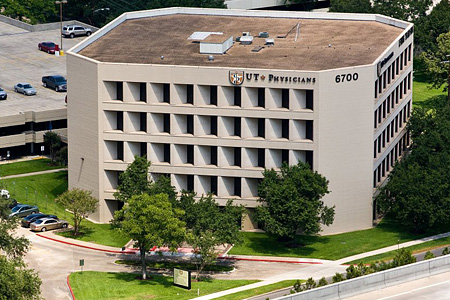 The Center for Healthy Aging is a comprehensive outpatient clinic for geriatric care. Patients with memory problems or dementia may be seen in the Brain Health Clinic by an interdisciplinary team that includes a Geriatrician, Gerontological Nurse Practitioner, Neurologist, Geriatric Psychiatrist, Neuropsychologist, Nurse and Geriatric Social Worker.
---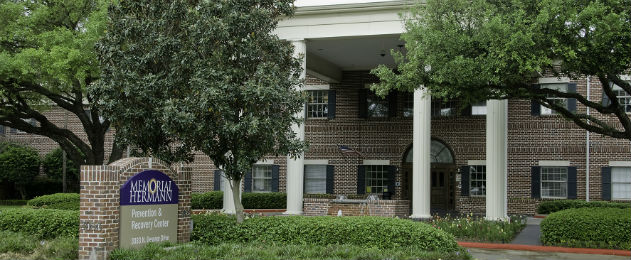 Memorial Hermann Prevention and Recovery Center (PaRC) has a 30-year, award winning history of treating patients with addiction and dual psychiatric diagnoses. Rotating residents have the opportunity to engage in various stages of treatment from inpatient detox to intensive outpatient process groups, AA meetings, and other diverse treatment styles including equine and family therapy.
---
Electives
Electives vary based on PGY. Residents may choose electives based on interests such as Forensic (ACT, Harris County Jail, State Hospitals), Telepsychiatry, Treatment Resistant Mood Disorders, Neuromodulation, Sleep, Transplant Psychiatry, Trauma and Resilience Center, Inpatient Psychology Service, Advanced Psychotherapy, Child and Adolescent, Neuropsychiatry, Geriatric and Memory Clinics.